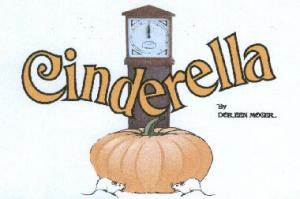 Young Cinderella is badly put upon in the home of Evillia Belching-Forthe, her stepmother, and her two step-sisters, Plain and Purl.
But when Cinderella's invitation to the Palace Ball is torn up, an angry Fairy Godmother decides that enough is enough. Helped by Norris the Gnome and Wizard Wombat she steers the story towards a happy ending
DSP also represents Cinderella by Peter Denyer.
Authors
Related Shows
Photos

Cast
Characters
(5m, 4f, 5m/f)
Cinderella : beautiful daughter of the late Baron Belching-Forthe. (f)
Evillia Belching-Forthe : Cinderella's stepmother (f)
Plain : Evillia's ugly daughter ('Dame', m/f)
Purl : Evillia's other ugly daughter ('Dame', m/f)
Buttons : Cinderella's friend. (m)
Pick : a pickpocket. (m)
Mix : another pickpocket. (m)
Prince Charming : Prince of Debonair. (m/f)
Dandini : his companion. (m/f)
Norris Gnome. (m)
Fairy Godmother. (f)
Wizard Wombat : a kind old Wizard. (m)
Major Domo: a servant at The Palace (m/f)
Cinderella's Double. (f)
Chorus of Villagers, Children, Street Vendors, Courtiers, Mice, Devils, Goblins, Gremlins, horses and fairies.
Sample Script
Production Costs
12.5%