David Spicer Productions is a theatrical agency representing musicals, operetta, plays, comedy and youth theatre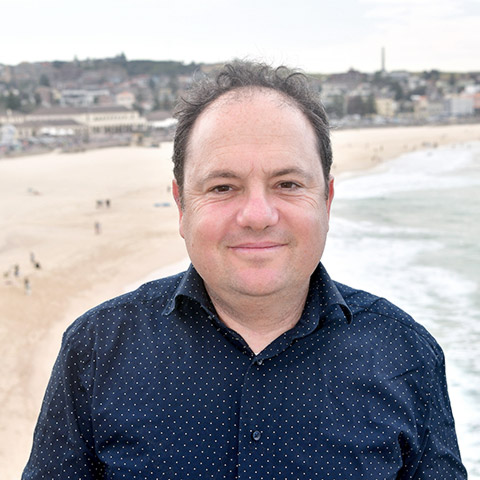 DSP is one of Australia and New Zealand's largest musical theatre agents - issuing licences for up to 200 different seasons of musicals and plays a year. Works under management range from global blockbusters such as We Will Rock You and Saturday Night Fever the Musical to homegrown hits such as The Boy From Oz, Essgee's Pirates of Penzance, Back to the 80's and Song Contest : The Almost Eurovision Experience.
In November 2020 a season of We Will Rock You licensed by DSP in Perth was the highest grossing theatrical production in the world for that month.
The company, founded in 1997, is proud to have published and promoted Australian musicals and plays. Iconic local titles include Australia Day, Ladies in Black, Snugglepot and Cuddlepie the Musical, and The Magic Pudding.
DSP represents musicals or plays which have been staged professionally such as The Boy From Oz and also develops new shows from the ground up. An example is Disco Inferno. It was sent to DSP as a raw script in 2002. Now it has been performed across the UK and USA – represented by Music Theatre International in the US and UK, translated into German and bookings have come in from countries ranging from Holland to Zimbabwe.
In 2002, DSP commenced representing the Jon English/David Mackay rock opera Paris. Released as a concept album, it had never been staged when DSP commenced representation. Since then the musical has been staged 26 times in five countries including a German language edition. In 2008, DSP staged a production itself with the composer Jon English in the cast. Read more.
Many other writers of musicals and plays represented by DSP have had enjoyed seeing their works performed extensively, after being published and promoted by the company.
David Spicer Productions also runs an annual season of musical, cabaret and comedy at Australia's most famous beach (pictured above) under the trading name of The Bondi Theatre Company. The seasons always include a play or musical represented by DSP and opportunities for artists to showcase their own work.
DSP Cast and Crew
David Spicer: Owner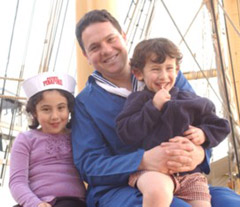 David worked as a journalist for the Australian Broadcasting Corporation from 1988-2018 in metropolitan radio and television news and current affairs in Sydney. In 1997 and 1998 he won the Walkley Award for Best Radio Current Affairs Story. In 1997 David also won the City of Sydney Eisteddfod Open Tenor Competition.
He has performed most of the lead tenor repertoire of Gilbert and Sullivan in concerts and fully staged performances. In March 2008, with Neil Litchfield, he took over management of Stage Whispers Performing Arts Magazine.
Since 1995 David has been the Communications Officer for The Association of Community Theatre. In that capacity he helped found ACT's What's On brochure, national public liability insurance policy and bi-annual community theatre conference.
David is married and has three children.
Pictured above is David (in the early 2000's) in costume as Ralph Rackstraw in Essgee's HMS Pinafore for the Waverley Lugar Brae Players with two of his children.
Peter Novakovich: Bookkeeper and Company Solicitor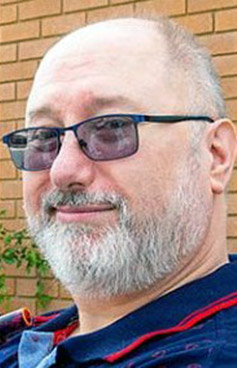 Peter commenced work for DSP in 2011 and since then has assisted the company in client management, bookkeeping and legal affairs.
Trained as a solicitor from the University of Sydney he is also highly sought after piano accompanist.
In his spare time Peter has composed and written a series of parody musicals produced through his company - World Of Fine Theatre And Music (WOFTAM) Productions - based in south-western Sydney.
Ruthie Cohen : Customer Relations Manager.
Trained as a midwife Ruthie provides a safe pair of hands to handle your inquiries.
Phillip Tyson : Pre-Press Publication and Design.
A career threading hospitality, retail and network engineering led Phillip to be DSP's principal designer. As a freelance I.T. Consultant, he was thrust into the world of desktop publishing in the early 2000s when a sudden staffing change at Stage Whispers Magazine saw him coaxed into taking over the reins of its production. (It would later become incorporated into David Spicer's media empire.)
Outside of work, Phillip is something of a tinkerer, an avid cyclist and photographer, a cruciverbalist and a keen traveller.
Company Details
ABN: 12 097 126 504
Postal address: PO Box 2280 Rose Bay North NSW 2030 Australia
Phone : 02 93718458
Email david@davidspicer.com
Payment Options.
DSP is registered for GST in Australia and payments can be made by cheque, EFT into our bank account or by credit card at this link.
DSP has a bank Account with Westpac Trust New Zealand and New Zealand customers are encouraged to make direct EFT into that account.
For clients in the United States DSP accepts checks in $US.