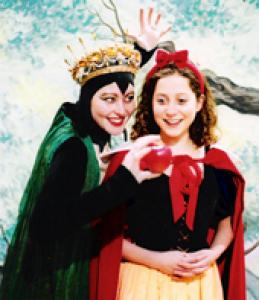 This pantomime follows closely the story of the famous fable but in a special twist replaces dwarfs with garden gnomes.
It means your company can cast regular sized people.
All of the traditional adventures are in the hilarious script.
There is of course a wicked Queen, the Magic Mirror on the wall, a bewitched huntsman ordered to kill Snow White and friendly animals.
A poisoned apple and finally a kiss from a passing Prince to round everything off nicely.
"The blushing darlings of the show are, of course, the seven dwarfs – an overgrown line-up of adults ranging from the 5ft-nothing Dopey to a stocky 6ft 7 Bossy. Many of the much-deserved laughs derive from the antics of this clattering seven-a-side team." wrote critic Clare Goddard.
Authors
Related Shows
Photos

Cast
Cast of Characters
King Hector King of Pleasant-land. Mature, pleasant, bumbling King. Downtrodden by
Queen Eldread, but loved by Mrs Murgatroyd. (m)
Queen His unpleasant wife. Wicked Queen, tall, haughty, but attractive. (f)
Snow White His lovely daughter. Principal girl, sweet and kind. Needs a good singing
voice. (f)
Mrs Murgatroyd Landlady of the Hunt Hostelry. Dame, raucous and overpowering, but gentle
with King Hector. (m)
Wot Her son. Young lad, dim. Comedian, needs good rapport with audience. (m)
Lester The Court Jester. Comic, lively similar to Wot, but has more brain! (m)
Prince Rupert Principal boy. Suitable age for Snow White. Good singing voice. (m/f)
Grant The Huntsman. age. Good build. Rough character. (m)
Wishing Well Fairy Typical panto fairy. (f)
Wizard Blackheart The Queen's Magician. Should look old. Used to be wicked but is past it now!
Bumbling, unsteady on his feet, forgetful. (m)
Old Hag The Queen's Evil double. Can double with Queen if necessary. Looks old, bent
over, querulous voice. (f)
Bossy
Basher
Sleepy
Sneezy
Greedy
Happy
Dopey
Deer
Rabbit
Bird
Toad
Chorus of: Villagers, Serving Wenches, Huntsmen & women, animals & tree spirits. Beatrix Potter
animals.
Sample Script
Production Costs
12.5%