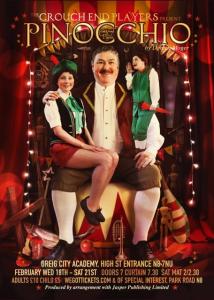 A wonderful version of this well-known children's story. Geppetto, the wood carver, longs for a son, but the Star Fairy will only grant his wish on the condition that his puppet Pinocchio proves to be worthy and good.
Old Nick is determined that this should not happen. Adventures take the plot to Stromboli's Circus to meet clowns Macaroni and Spaghetti, then onto the sea and inside a whale! Finally the guardian conscience, Jimminy Cricket, guides everyone to a happy ending – of course!
This edition is in the form of a pantomime with suggested optional musical interludes not provided with this script.
Authors
Related Shows
Photos

Cast
(5m, 2f, 4m/f)
Star Fairy : A Good Fairy. Typical sweet Panto Fairy. (f)
Old Nick : An evil person from the Underworld... the Devil! (m)
Pinocchio : A wooden puppet. Small adult or good juvenile. (m/f)
Geppetto : A wood carver. Elderly, kind but bumbling. (m)
Rissotto : His wife. Panto Dame. Boisterous, noisy, rude, kind heart. (m)
Jimminy Cricket : Geppetto's apprentice. Loveable comedy character. Works opposite to the Dame. (m)
Marietta : The local school-teacher. Principal Girl. Age to match Tony. A singer. Supporting role. (f)
Tony : A wood cutter. Principal Boy. Young, singer. Supporting role. (m/f)
Stromboli : A nasty circus ringmaster, the baddy! (m)
Macaroni : Comedy character. White face clown at Stromboli's Circus. (m/f)
Spaghetti : Comedy character. Traditional baggy-trousered clown at Stromboli's Circus. (m/f)
Other Support Roles (3m, 1f):
Long John Silver, Captain Hook & Nelson : Three skeletons in the whale. (3 x m)
Lotty : An attractive circus performer. (f)
Non-Speaking Roles 1m, 2 jnr-m/f):
Small Fairy (child, m/f), Gremlin (child, same size as Small Fairy, m/f)& Stringbean (a weightlifter, m)
Chorus of Chorus of Villagers, Circus Folk, Sea Creatures, and School Children.
Sample Script
Production Costs
12.5%