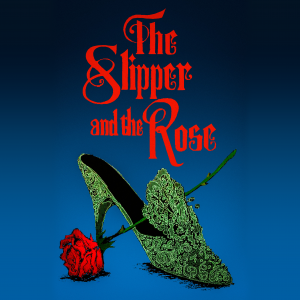 From the composers of Mary Poppins and Chitty Chitty Bang Bang comes a new musical release based on the legend of Cinderella.
The Slipper and the Rose - composed by Robert and Richard Sherman has beautiful music, charm and lots of laughs.
First released in 1976 as a movie which was nominated for two Academy Awards.
It was adapted for the stage in 1984 and now has a score written especially for community theatre.
In 1976, "The Slipper and the Rose" was picked to be the Royal Command Performance of the year. The performance was attended by Her Majesty Queen Elizabeth, the Queen Mother.
In 2003, four Sherman Brothers' musicals ranked in the Top 10 Favorite Children's Films of All Time in a British nationwide poll reported by the BBC. The Jungle Book (1967) ranked at #7, Mary Poppins (1964) ranked at #8, The Aristocats (1970) ranked at #9, and Chitty Chitty Bang Bang (1968) topped the list at #1.
Video
Authors
Photos

Sample Script
Instrumentation / Rentals
SLIPPER AND THE ROSE Musicians required for 9 piece orchestration Keyboard 1 Keyboard 2 Double Bass Flute Oboe Clarinet Horn Trumpet Percussion BAND PARTS FOR 18 PIECE ORCHESTRA F L U T E O B O E C L A R I N E T H O R N T R U M P E T I T R U M P E T II T R O M B O N E P E R C U S S I O N I P E R C U S S I O N II K E Y B O A R D G U I T A R V I O L I N I V I O L I N II V I O L A V I O L I N C E L L O D O U B L E B A S S
Production Costs
14% of Box Office Gross.