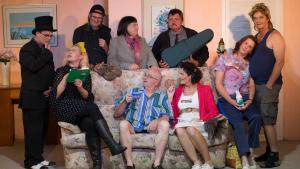 Hilarious fast moving comedy. Richard and his wife Barbara accidently offer the same room as lodgings to a young undertaker and a young woman who has the mafia after her.
Confusion, panic, cross dressing and many misunderstandings abound.
Not helped when an Italian gentleman turns up with a violin case.
Video
Authors
Related Shows
Photos
Plot / Synopsis
Richard and Barbara Taylor independently offer lodgings to a trainee undertaker and a young Italian girl.
Richard's attempts to keep his lodger'soccupation from Barbara, with the help of his neighbour Tom, lead to manyhilarious situations involving misunderstandings and visits from the mafia.
Cast
Four Men and Four Women.
Richard
Barbara
Tom
Beryl
Clive
Gina
Luciano
Miss Simmins
Sample Script
Production Costs
12.5% of Box Office.