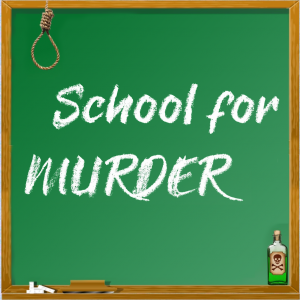 An isolated house in the Cotswolds is the scene where the lady owner, Sandra Maitland, takes in paying guests. She has organised a Writers' Seminar for aspiring crime writers for which four ladies have applied.
DJ Burrows, an established writer, is the tutor and all is set for a creative week, but Sandra has a problem. She is receiving threatening phone calls from an unknown source and her daughter has disappeared from her boarding school.
Her troubles do not end there when one of her guests disappears and another one appears to be murdered. It takes some detective work behind the scenes before the villain is unmasked and the writers can continue with their seminar.
This comedy-thriller has good acting parts for five women and one man, plus a walk-on part at the end.
Authors
Related Shows
Cast
Characters
(1m, 5f)
Sandra Maitland: 40-50, smart, sophisticated lady, efficient but with a worried air
Amanda Elliott: 40-50, rather dim but good-natured, tries to please everybody
Delia Doubtfire: 20's, attractive, smartly dressed, self-opinionated and condescending
Maggie Myers: 50s, hearty, 'jolly-hockey-sticks' type, takes the initiative
DJ Bowers: 40, a transvestite, likes to wear a dress but behaves like a man, completely masculine in behaviour and attitude.
Lottie Lambert: 30-40, eccentric lady, bizarrely dressed, very pleasant but a bit weird.
and, in addition…
The Stranger: a masked man (small, non-speaking part)
---
Sample Script
Production Costs
12.5%