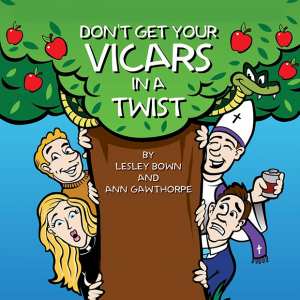 A fast-moving farce about , a senior church warden who has let the empty vicarage to a travelling theatre company for a murder mystery weekend to pay for his daughter's extravagant wedding. Mistaken identity, other forms of misunderstanding, cross-dressing, drunkedness and general chaos ensue.
Authors
Related Shows
Photos
Plot / Synopsis

The action takes place in the hall of a country vicarage in 1993, the first year that
woman priests were ordained.

SET

The hall has stairs leading off and doors to the dining room, drawing room, kitchen,
library and cloakroom and front entrance. There is a window next to the front door
and a cupboard under the stairs. A table holds a phone, a few hymn books and
some old church magazines. A picture of a church hangs on one wall.
Cast

(in order of appearance)
George A Church Warden in his fifties
Caroline A Vicar, in her late twenties and attractive
Dickie Proprietor of a theatrical company specialising in Murder
Mystery Weekends, in his forties/fifties
Alan A Church Warden in his early thirties
Ronald An actor in his fifties
Marigold An actor in her forties
Maddie A guest in her forties
Charles An actor in his thirties
Freda A guest in her fifties
Angela A guest in her fifties
Herbert A Bishop in his fifties (he needs to be a similar height
and build to Ronald)
Sample Script
Production Costs
12.5% of Box Office.