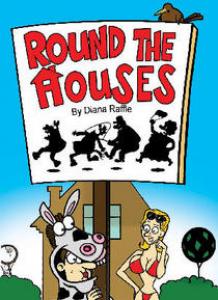 With divorce proceedings pending, Helen and Simon Simpson instruct estate agent, Simon Allcock to find a buyer for their house. Instead, the unscrupulous Simon decides to use their empty property for romantic assignation with his secretary, Felicity. His carefully laid plans are dashed though, by the arrival of his hapless assistant, Bernard, who really is trying to sell their house, followed by a seductive female doctor and Bernard's very strange wife, not to mention the formidable WI lady who collects unwanted clothes and runs the local amateur dramatics society.
Further complications arise when Helen returns unexpectedly to find a drunk Lionel, who has also returned thinking that Helen is still there and hoping to make up. Unfortunately, she finds Lionel to be in a steamy embrace with a reluctant and confused, Felicity, who (for various reasons) is wearing Helen's clothes.
Even more complications arise when the cast of Jack and the Beanstalk arrive, complete with pantomime cow! Missing clothes, mistaken identities...and much much more.
Authors
Related Shows
Photos
Cast
Characters
(3m, 5f)
Helen Simpson - 30-50's
Lionel Simpson - 40-50's
Simon Allcock - 40-50's
Felicity Pettifer - 20-30's
Bernard Lewis - 40-50's
Miriam Wallace-Pratt - 50-60's
Deirdre Lewis - 40-50's
Dr Samantha Gleeson - 30-60's
Sample Script
Production Costs
12.5% plus a photocopy fee.