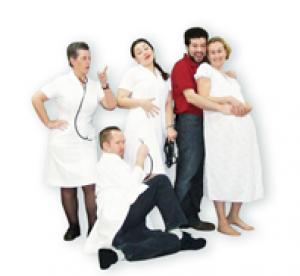 So funny it will split your stitches. A 'behind the scenes' look into the world of the maternity ward. Join sex-mad nurse Lindsay Walker, and the four ladies on C Ward.

The patients are : Vivien Withrington whose husband forgot to pay the private health insurance; Lizzie who has been caught out in the change of life; Nicola who gets confused easily and whose baby will have to match the soft furnishings in her house, and Michelle, whose only mistake was drinking alcopops and being 16.

Three of these four have the husbands they deserve, who each tries to help his wife during the last few hours before 'the big push' in the only way they know best - by being a man, and either not being there, or retiring as often as possible to the TV Room. Michelle though, has her mum - a domineering matriarch who is desperate that the baby is adopted to prevent the shame of having to reveal that her daughter is an unmarried mother.
Read the full script here.
Authors
Related Shows
Photos

Plot / Synopsis
The delivery rooms are full and so Vivien (who insisted on delivering in the birthing pool at the private 'Fairhomes' nursing home) together with Nicola have to deliver in their beds on the ward, during which Sister Mitchell and Nurse Walker show their compassionate side.

Through all this, the two domestics (Dot and Brenda) provide a down-to-earth patter of comfort to the labouring mothers, and barbed wit to the hospital staff.

It may sound like an unlikely setting for a comedy play, but Janet Shaw has a talent for turning the most incongruous situation and poking fun at it, or the people in it. This is truly a side-splitting comedy, which will leave you in stitches ... from laughing. It contains strong language and is not suitable for the easily offended. Pre-viewed on BBC Look North in November 1997, it is a guaranteed success.
Cast
Lindsay Walker

- a young midwife/nurse. Man-mad with a good bedside manner.
Sister Mitchell

- a typical ward manager. Competent, but cold
Dr Mathers

- a Doctor at the hospital, and Lindsay's current sleeping partner.
Dot

- a middle aged domestic.
Brenda

- another middle-aged domestic. Not as bright as Dot.
Vivien Withrington

- a social climber, "keeps up with the Jones's", likes things her own way.
Clive Withrington

- tries hard to give Vivien what she demands, not always successfully
Lizzie Meadows

- a mother of five teenage children
Eric Meadows

- a 'traditional' northern father, old-fashioned views, strong Yorkshire accent
Trish Meadows

- their teenage daughter.
Nicola Ward

- first-time anxious mother-to-be, reads a birth manual to maintain her confidence
Kevin Ward

- first-time anxious father-to-be, wants to video the whole affair
Michelle Greenwood

- young, innocent, made a mistake, desperately wants to keep the baby
Mrs Greenwood

- Michelle's domineering mother, desperately wants to have the baby adopted
Production Costs
12.5% of Box Office