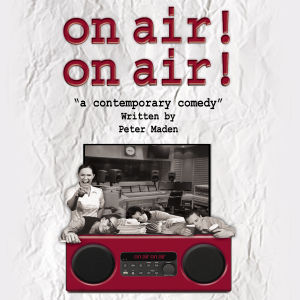 "On Air ! On Air !" takes you on a lightning paced, funny and at times, sad journey behind the glitter of advertising, exposing a world of high pressure, memorable characters and ethics which change conveniently in their desire to succeed.
In the hectic copy writing department of a busy Metropolitan FM radio station hard nosed salesperson Kate, calls for an ad for a dodgy jewellry retailer to be written, produced and on-air immediately.
Despite the efforts of the creative team, the project is thwarted by one disaster after another. Along the way, the morals and ethics of the characters are corrupted by a combination of money, favours, fear and power.
Where does corruption really begin? What compromises to our personal integrity do we have to make to be successful and what are the consequences?
This witty, contemporary play invites you into another world that really exists.
Video
Authors
Related Shows
Photos
Cast
Young Paul Paul when he was a teenager
Paul – Mid 40-50 radio station creative director. Balding
Kate – Power dressing mid-30's , ruthless self centred career bitch.
Shane – 25 to 35 , super talented , flighty , eccentric copywriter
Aaron – New Salesperson to the team. Eager to succeed , but floundering.
Jane – 30's , resident 'greenie , shabby chic, copywriter. Messy hair.
Campbell – Early 30's , genial , accommodating copywriter.
Tiffany – Receptionist with a drinking problem , a quick wit & acid tongue.
Daryl – Overweight, bombastic , opinionated copywriter
Mum Young Paul's mother
Lou – Genial , manipulative sales manager. Late 50's
Craig – Middle manager of the radio station's audio production department.
Wayne – Very stupid listener/prize winner (Bogan)
Kelvin Porter Middle aged businessman, suit and tie
DJ Dave Pre-recorded voice over.
(Aaron/Wayne/Kelvin can all be played by the same person)
Sample Script
Production Costs
12.5% of Box Office.