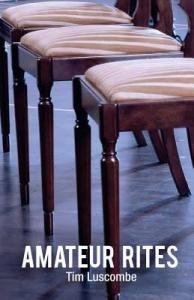 A fast-paced, hilarious comedy of modern manners. What could be more unsurprising than a suburban AmDram company staging a Jane Austen adaptation?
But the ambitions and neuroses of the members of Pogchurch Valley Amateur Dramatic Society come to a perilous and uproarious climax in the white heat of the rehearsal process for their production of Northanger Abbey. Alternately laugh-out-loud-funny and tender, this is a Stepping Out for the twenty first century.
Tim Luscombe easily draws each of the characters out of the page - they're all people we've met, or people that we've acted with, which makes their attitudes and actions so much more personal and poignant.
Authors
Related Shows
Photos

Plot / Synopsis
Virginia has been the bedrock of the Pogchurch Valley Amateur Dramatic Society for more years than anyone can remember. Organising and directing the group's plays has both consumed her and satisfied her 'control freak' nature. Husband, Bernie, has accepted the situation, and usually happily runs around as her factotum, but, a few months ago, his battle with cancer forced Virginia to hand over the levers of command for the next play. There being no obvious second-in-command, the society persuaded Liz, a local out-of-work professional director, to take the helm. Bernie has made a recovery and is now fit enough to allow Virginia to accept a role in the play, but only as an actor.
Liz has a different approach to directing from Virginia, involving punctuality at rehearsals, vocal and physical warm-ups, ambitious sets and an emphasis on 'work' rather than 'hobby'.
Her cast and crew are a mixed bag of locals.
Kate is fighting a battle to save a stand of trees behind her house, trees that are emotionally important to her as her late husband planted them, but a local developer is set to build houses there.
Rob is the newly joined set designer doing his first show with PVADS. Although quite an outgoing character, there is an element of his life that is private to him and he doesn't feel that everyone there should know about it just yet.
Dawn and Alastair are trying for a baby, but his sperm has 'low motility' which is upsetting Dawn and frustrating Alastair. In desperation, unbeknown to Alastair, Dawn asks Rob to be a sperm donor, at which point Rob reveals his secret to Dawn: that he is a transgendered man having previously been a woman.
Flicka is a young woman who leads a rather alternative lifestyle. Well on the way to becoming an earth mother, she is strong on Goddess Earth, celestial spirits and cosmic powers. She is however quite a shy person. Never one to be in the limelight, she supports the group by being a combination of directors' assistant, stage-manager, and prop maker, but secretly wants to direct. She is often thwarted by a nervous tummy which has her rushing off to the loo at regular intervals.
Holly is one of life's victims (or at least she thinks she is). Her cat goes missing, her yucca plant's dying, and she can't find a boyfriend, so has resorted to a chatroom and is cyber-dating a man who uses a Calvin Klein model's picture as his own.
The character comedy in the play is based on the battles of Liz vs Virginia and Dawn vs Alastair, as well as Holly's childlike personality and Flicka's inability to live in the real world while instead dreamily wishing she was elsewhere. Situational comedy is drawn from the inability of many of the group's actors to be able to act (at least until Flicka shows them how), while the dramatic content centres around Kate and her battle to defend the memory of her husband. The action takes place in a village hall where the group is doggedly rehearsing a production of Jane Austen's 'Northanger Abbey' with rather mixed results.
Cast
Characters
(3m, 6f)
Kate - 80
Liz - 40
Flicka - 28
Virginia - 60
Bernie - 60, married to Virginia
Rob - 30
Dawn - 40
Alastair - 40, married to Dawn
Holly - 20-30
---
Production Costs
12.5% of Box office