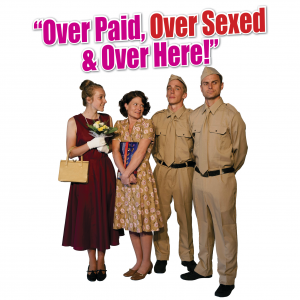 It's mid 1942 and Australia is at war.
As our able bodied men fight overseas a sleepy seaside Aussie town is about to experience an invasion by the Americans.
The arrival of the yanks brings much needed excitement for the ladies, but for the local lads there are three big problems with the visitors… they're over paid, they're over sexed, and they're over here!
New Zealand version also available for New Zealand theatre's.
Cast: 4 Female / 5 Male
Length: 2 Acts (110 minutes)
Genre: Comedy.
Video
Authors
Related Shows
Photos
Cast
Characters
1. DON MAYS Father to Allison, Dorothy and Rosey. 55 years old. His wife has passed away some 15 years ago. He suffers from shellshock and has a nervous condition from the First World War that increasingly has left him at times somewhat aloof and distracted.

2. ALLISON MAYS The oldest of the Mays sisters. 35 years old. With the death of her mother she has assumed a motherly role in the family. Has moved back in with father to run family business while her husband Kenneth is away at war. She has not heard from Kenneth for quite some time and is worried for him.

3. DOROTHY MAYS The middle sister and 28 years old. Unmarried but not particularly by choice. Independent. Outspoken. Works at the family dry cleaning business. Resents the war.

4. ROSEY MAYS The youngest of the Mays sisters at 17 years of age. Bright, happy and enthusiastic.

5. JACK Of indeterminate age somewhere between 20 and 35 years old. Very proudly a member of the Air Raid Precaution Unit (ARP) and possessing an over blown sense of self importance. Not the sharpest tool in the shed. Has befriended George whom he dominates.

6. GEORGE Late 20's to late 30's. Having not been accepted into the army due to health issues his self-esteem has taken a beating. Works at the wharf. Possesses more intelligence and many more capabilities than one would assume at first glance. With the departure of the other men in the town he is left with Jack as his best friend. In love with Dorothy. Only ever wears overalls.

7. MRS HAM In her mid to late 50's but appears much older. A busybody and hard-shot who is making the best of the war by establishing a black market of sorts. Often assumes an unwelcome motherly responsibility for the Mays sisters. Unmarried.

8. HARRY American serviceman in his early 20's. Clean cut, dashing, cheerful and charming. Self-confident and optimistic. A leader by nature.

9. ROBERT American serviceman, younger than Harry. Perhaps 18 or 19 years old. Clean cut, polite and charming. Happy to follow Harry's lead.


Sample Script
Production Costs
12.5% of Box Office