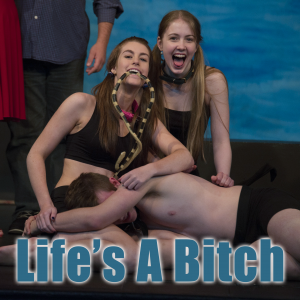 Life's a Bitch is a comedy about sibling rivalry, love and dogs. It is a contemporary play, set in a small country town.
Kevin does not particularly like dogs, but he has been asked to look after his niece's dog – Deena for a few weeks, while she prepares for her wedding.
While he is in the park with the dog, Kevin meets his childhood sweetheart – Denise a 40-year-old dog-loving divorcee, whom he has not seen for 20 years. She has returned to the town to look after her sick mother.
There are sparks of interest on both sides when they reunite and they continue to meet in the park, but their burgeoning relationship is placed in jeopardy by the antics of her jealous dog – Jackson – who does not want a rival for mistresses' affections.
Meanwhile, Kevin's never do well brother Rex starts pursuing Kevin's former work mate Sarah. She is a good friend of Denise's, but she and Kevin also have history – all of which is making things a bit too complicated for Kevin.
Throw in some escaping dogs and the whole situation is about to implode.
Will Kevin win Denise's heart? Can Rex get it up? Will Jackson come back? And what has it all got to do with a sperm sample?
Authors
Related Shows
Photos
Cast
This play can be played with four versatile actors minimum. Ideally it's a cast of seven. 3M, 4W, with 3 people playing the dogs. If it has to be played by 4 actors, Kevin doesn't double.
Kevin Smith late thirties/early forties bachelor, assistant bank manager in a smallish country town. He is responsible, caring and a bit shy.
Rex Smith His elder brother, who has always cast a long shadow.
Denise Fairchild Kevin's first love, a nurse who has just recently come back to her home town (her mother is ill). She is the proud owner of Jackson, a male pedigreed blue heeler.
Sarah Wilcott a teller at the branch Kevin is assistant manager in; she is also a close friend of Denise. She is also attempting to make her way as a wedding planner, and is the owner of Josie, a female cocker spaniel cross.
Jackson A spoiled pedigreed blue heeler, an erection on legs. Alpha male.
Deena is a short-haired pointer, light and agile. She is naturally nervous, and is being baby-sat by her owner's uncle, Kevin. Alison, Deena's owner, is the estranged daughter of Rex. Deena does not know Rex.
Josie Sarah's dog. She's a female cocker spaniel who knows who she likes and who her mistress should not. Very possessive, and out for what she can get.
Sample Script
Production Costs
12.5% of Box Office