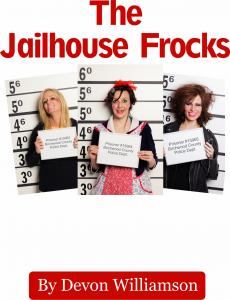 Shattering dimwitted Officer Dwayne's tranquil evening at the Birchwood County police station is interrupted by the arrests of three unlikely women; the mayor's wife in a state of complete alcoholic breakdown, the local mad cat-lady looking for somewhere to stay out of the rain, and a dangerous looking New Yorker who has managed to crash her car into the police station while speeding through town.
The already chaotic situation descends into mayhem with the arrival of a New York gangster, disguised as an FBI agent, hell-bent on exacting revenge on his wife who is locked in the cell. By the end of the night, the ladies have formed a gang, sang some songs, escaped from jail and locked the gangster up in their place, leaving Officer Dwayne wondering how on earth he's managed to make the arrest of a lifetime.
Described critically as "a bright, unabashed stage romp that's a lot of fun right from the start and guaranteed to lift spirits" The Jailhouse Frocks is a sure fire comedy cracker.
The play features the songs "Respect", "Monster Mash", "I Yi Yi Yi Yi" (I Like You Very Much) and "Mummy Works Nights".
Duration: 120 minutes. 2 Acts. 3F 2M.
Authors
Related Shows
Photos
Cast
Officer Dwayne Pope- Incredibly upbeat, optimistic and dimwitted, Dwayne is making the best of his difficult situation. He has been transferred from a nearby Police Department to help the Birchwood County Police Department. Birchwood did not get the best deal. Dwayne never fully recovered from a head injury, although we suspect he was much the same prior to it... he just can be excused now.
Voice of the Chief - This may be pre-recorded, or delivered live by the actor playing Tony. The Chief communicates to Officer Dwayne via the police radio. The Chief is frustrated at being short staffed and having to work late. Unfortunately Dwayne hasn't relieved the Chiefs workload but added to it.
Cathy Monroe - Cathy has cats. A lot of cats. Due to a cat related insect infestation of her house she is in search of a place to spend the night. She is insightful one moment, and half-witted and ludicrous the next. One thing she is not; is subtle.
Elena Davidson - Elena's entire identity is wrapped around her reputation as the Mayor's wife. Beneath her educated, highly strung and pretentious exterior is a woman trying to find her own place in the world.
Gloria Romano - A New Yorker with a tough exterior, Gloria is, along with her mobster husband Tony, hiding out in Birchwood County. Street smart Gloria is quick witted and a shrewd judge of character. She was trying to escape from her husband when she was arrested.
Tony Romano - New York mafia style gangster on the lam in sleepy Birchwood County with his wife Gloria. Tony is charming, menacing and very, very dangerous.
Sample Script
Production Costs
12.5% of Box Office and Book Purchase