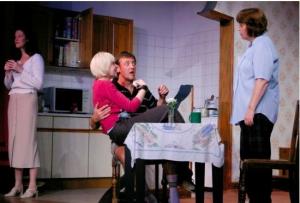 A third farcical comedy by the author of LOVE BEGINS AT FIFTY. Set in a seaside guest house where misfortune follows misfortune – but 'all's well that ends well'. Or is it? David and Janet Thompson were deeply in love when they married thirty-two years ago. Their future seemed destined for marital bliss. That was until Janet's mother, Marjorie, moved in with them.
From that day onwards, things started to go downhill. Their relationship has now reached an all-time low. In a last attempt to save the marriage, the couple have decided to return to the guest house where they spent their honeymoon. The idea being that they will rekindle the lost feelings of warmth and affection they used to share and live happily ever after. If only life was that simple!
The second honeymoon is doomed from the beginning. The guest house is going through a bad patch. Marjorie's decided to come along and upset everyone. David is pursued by an over-zealous waitress, a frustrated newly-wed and an admirer from the past. The result being, the whole week turns into a farce! Will true love win through in the end? Only Tyson, the mouse, has the answer.
Last night was so funny, we both enjoyed ourselves so much, actually we have not laughed so much in yonks.
"Loved the show! Very funny, great characters, best lines you've ever had … it was really funny."– Audience reaction … The Community of Hugerford Theatre.
Link to 'The Play Produced' where director Nigel James discusses his production of The Love Nest for the Hanborough Players

://issuu.com/theplayproduced/docs/the_love_nest_apr_2004?mode=window&backgroundColor=%23222222

– AMATEUR STAGE / THE PLAY PRODUCED
Duration: 90 minutes.
Authors
Related Shows
Cast
IN ORDER OF APPEARANCE
JACK LONGTHORP  (Guest house proprietor) About fifty-three. A big thinker, and an opportunist. Smart in appearance. He has many mood swings. Does not always think before he speaks.
MARY LONGTHORP  (Wife of Jack) About forty-nine. Has been married to Jack for twenty years. Slightly overweight. Does not make the best of herself. She is a quiet person, who lacks self-confidence. Her life is centred around the guest house.
TINA LEWIS  (Waitress) About thirty-three. Slim and very attractive. She has had lots of boy friends, but never got serious with any of them. A bit scatty. Could be described as a dumb blonde. Very likeable. She has a zest for living life to the full.
JANET THOMPSON  (Guest) About fifty-three. Has been dominated by her mother all her life. She is smartly dressed and well spoken. At times she acts like a snob. She has an affectionate side to her character which has been suppressed.
MARJORIE BRAITHWAITE  (Guest - Mother of Janet) About seventy-eight. She is a cantankerous harridan, who thinks the world revolves around her. She is a hypochondriac. In her opinion, her daughter has married beneath herself.
DAVID THOMPSON  (Guest – Husband of Janet) About fifty-four. An intelligent, thoughtful person, who is a romantic at heart. He is well groomed, and looks good for his age. Normally placid, but is becoming increasingly frustrated with his mother-in-law.
SARA ROSS  (Guest) About twenty-four. She is petite, and good looking. A likeable, outgoing girl with lots of friends, and interests. She has a high sex drive. Just married Duncan.
DUNCAN ROSS  (Guest - Husband of Sara) About twenty-five. Very well built, and good looking. He likes all sports, but his main love is rugby. He is super fit. However, we do not see him at his best. He is scared of mice.
AMINA BETNAY  (Guest) About forty-five. Slim, attractive and intelligent. Has been looking for love but without success. Money is no object, and it shows. She is one of life's high-flyers.
TONI CLARK  (Health inspector) About thirty-nine. Well spoken and smartly dressed. She is slightly overweight. Comes across as brash, but has a very caring side to her nature. She is a lesbian.
Sample Script
Production Costs
12.5% of Box Office.