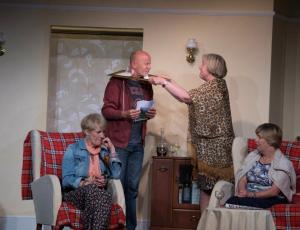 Tom Millard's world has been shattered by the unexpected death of his wife. Having now realized that life is short and precious, Tom makes a bucket list and starts working his way through it.
His first aim is to take early retirement and live by the sea. His two married daughters are unhappy about their father's decision to live over a hundred miles away from them. They arrange for a wealthy divorcee friend called Brenda to visit Tom. The idea being that she will become romantically involved and persuade Tom to move into her house, which is close to his daughters. The only problem with this arrangement is that Tom detests Brenda.
Continuing to work his way through the bucket list, Tom has hired the services of a mature escort lady for an evening's entertainment. By a twist of fate, the local female vicar calls round the night Tom is expecting his escort lady. Tom mistakes the vicar for his date. Brenda also makes an unwelcome visit that evening. Thereafter follows many twists and turns in this hilarious farcical comedy.
"the audiences loved the play, and the feedback was amazing! This was the fifth play by Raymond Hopkins that we have performed, and I believe it was his best" Endeavour Theatre Company

"We've enjoyed an extremely successful five day run with this play – audience numbers were the best we've had for years." – The Wisbech Players
Duration: 90 minutes.
Authors
Related Shows
Photos

Plot / Synopsis
ACT ONE
Scene I      Saturday morning
Scene II      Wednesday evening
Scene III     Friday morning
ACT TWO
Scene I      Tuesday early afternoon
Scene II      Saturday morning
Tom Millard lives in a village on the Cornish coast. The action of the play takes place in the lounge of his small cottage. It is late summer — the present day.
Cast
IN ORDER OF APPEARANCE
M2 F6
TOM MILLARD About sixty-four. An intelligent, thoughtful person who is a romantic at heart. He is well groomed and looks good for his age. He is a private person who doesn't like socialising. His world has been shattered since the death of his wife.
LUCY RICHENS (Younger daughter of Tom) About forty. Well spoken and smartly dressed. She is slightly overweight. Married with two children. Fairly placid.
JADE THOMPSON (Older daughter of Tom) About forty-one. Speaks her mind. Good looking. Dresses in quirky clothes. Not at all happy that her dad has moved away from family and friends. Married with two children.
BRENDA HARRIS (Family friend) About fifty-six. Lives alone after her husband left her. Very wealthy. Likes the finer things in life. Verging on being a snob. Thinks the world revolves around her. Dominates conversation. Has a crush on Tom.
KEITH GROVES (Best friend of Tom) About fifty-five. Jack the lad. Has been married for twenty-seven years but does his own thing. A larger than life personality. Smart in appearance.
SARA JONES (Local vicar) About fifty-two. Spinster. Slim and attractive. Well dressed. A very saintly Christian who has dedicated her life to the church. A very likeable person.
ALICE BEALE (Cleaning lady) About seventy-six. Has many medical problems. Shabbily dressed and poorly groomed. Lives on her own since her husband walked out. Could have a walking stick. Suggestion — mispronounces words which are underlined in script.
Sample Script
Production Costs
12.5%