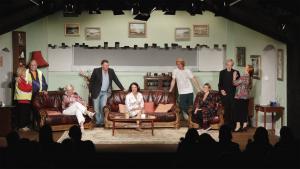 After twenty-one years of marriage, James Beale walks out on his wife, Molly. She is devastated and after four months of being alone, she has reached rock bottom. Her best friend, Fiona, persuades her to try the "six-step miracle cure" for abandoned wives. The idea being, on completion, she will be guaranteed to get her life back together.
Molly agrees and finds that it works. Not only does her husband want to come back, but she has two other suitors vying for her affection. The twists and turns, the intrigues, the misunderstandings on her road to recovery, all add up to a hilarious evening's entertainment.
"Looking for Love' by playwright Raymond Hopkins is a clever, well-written romantic comedy with just the right level of good old fashioned British innuendo and sardonic wit. The slickest and most entertaining comedy from the Abbey for some time and is heartening to see that playwright Raymond Hopkins is donating his share of the proceeds to Multiple Sclerosis research"

– The Abbey Theatre Club. Arbroath Herald
"This new, complex and extremely funny play is handled very well by the Wheatsheaf Players, whose range increases all the time. It's a farce – in the nicest sense – with more twists than a little piggy's tail…. Go and see it – it's amazing."

– Wheatsheaf Players, The Courier
Duration: 90 minutes.
Authors
Related Shows
Cast
IN ORDER OF APPEARANCE
M4 F5
MOLLY BEALE   About forty-five. Since her husband left her, she lacks confidence and finds life hard going. In scene one, looks dowdy. From scene two onwards looks very attractive. By the end of the play she is transformed and has become a new woman!
fIONA BROADBENT (Lifelong best friend of Molly) About forty-four. Does not take life too seriously. Lots of energy. Dresses in quirky clothes. Has had lots of men friends. Full of charisma.
CLAIRE PEARSON  (Daughter of James and Molly) About twenty-one. Immaculate dress sense. Married with one child. Feels torn between her parents since the breakdown of their marriage.
NANCY GROVES  (Neighbour) About sixty-eight. Widow. Shabbily dressed and poorly groomed in Act One. Slight improvement in Act Two. A real busybody. Besotted with her dog. Has body odour in Act One.
LYN HARRIS  (Friend from church) About thirty-five. Could be older, match age to Rev. Thomas. Plain in appearance and conservatively dressed. She is single and has high moral principles. Besotted with the Rev. David Thomas.
JAMES BEALE  (Husband of Molly) About forty-nine. Good-looking and smart in appearance. Well-educated and has good social skills. He comes across as a very likeable person. He is a romantic at heart. Midlife crisis!
PAUL TRITTON  (Friend from church) About seventy-two. Not much dress sense. Slightly overweight. Lives alone since his wife died. Does not always think before he speaks.
The Rev. DAVID Thomas  (Local Vicar)   About forty. Could be older, match age to Lyn Harris. Not married. Smart in appearance. Well-educated. A very saintly Christian who has dedicated his life to the church. He is shy and naive when it comes to females. His romantic passions have never been switched on! Recently moved into the parish.
Production Costs
12.5% of Box Office.