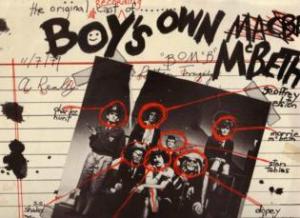 Boy's Own McBeth toured Australia and the US from 1979 until 1982. It was the longest running Australian written musical ever..staged with more than 600 performances and was only eclipsed in the 1990's by The Boy From Oz.
What the critics said....
"A combination of Welcome Back Kotter, Monty Python's Flying Circus, Shakespeare in Rock n Roll" (Sunday Telegraph)
"The Marx Brothers and the Goons" ( The Bulletin)
"Explosively funny" ( Canberra Times.)
"Full Marks" ( Sunday Mail)
Terry Shakespeare is really the school old boy – he's 42. He's been in fifth form for 26 years and his two children Dopey and SS are in the same class – but he's not silly it's all a tax dodge. The school hatches a plot to finally boot him out. They make him direct the play Macbeth.
But as always he is determined to fail so he transfers the play from Scotland to New Zealand and even schedules a cricket match at interval. Out Damn Spot - becomes Out Damn Spot the Dog.
Video
Authors
Related Shows
Photos
Plot / Synopsis
Terry Shakespeare is 42 years old and has been a student at Dunsinane Boys School for 36 years. In that time he has only managed to reach Year 11 and has no intentions of reaching year 12. Why does a man stay at school for so long?
At the age of 15, Terry Shakespeare saw no future in the outside world. So in a bid to remain at Dunsinane forever, he married the Tuckshop lady and soon became a father of twins (S.S and Dopey) Sadly for Terry his wife died during child birth but in her Will, she provided a large bequest to the school, on the condition that her husband and children receive full board and education at Dunsinane until their graduation. Unfortunately for the School and its board the Shakespeares have never graduated, because of their innate ability to fail.
The Headmaster Clifford Tobias, knows Terry well, they're old classmates. Clifford is in a quandary, on one hand Terry is his mate, but the school Board have put pressure on him to get rid of the Shakespeares. So in an attempt to get Terry a pass mark, Cliff tricks him into directing the school play Macbeth, little knowing what Shakespeare will do to the tragedy. In an act of anarchy, Terry Shakespeare casts the dumbest boy in school, the School Captain,Charles Hunt as Duncan, Banquo and Lady Macduff, characters who have only one thing in common, they all die.
The Drama Master Ronnie Elston has a secret. He 's a woman. Veronica Elston has resorted to dressing as a man, in order to gain employment at this all male bastion.
Morrie McBeth the 14 year old boy genius, isn't what he seems either. He's a girl too. Marie's Mc Beth's father, an old boy of Dunsinane, always wanted a son and has forced his daughter to attend the school, in an attempt to make a man of her.
With the Board's blessing the two women, Elston and McBeth, plot to overthrow Dunsinane Boys' School and convert it to Birnam Wood Ladies' College.
Cast
This can be staged with a minimum cast of seven. Maximum principal cast can be 11. Optional extras are chorus.
Terry Shakespeare Year 11:
A 42 year old student, father and SP bookmaker, whose plan is to stay at school forever. Terry is totally irresponsible and has made a career of failing his exams in style.
.
Shelley Shaw Shakespeare aka S.S. Year 12:
Is one of Terry's twin sons. He's 28 and still can't count to ten, mainly due to his stutter. He is bright, sensitive and talented, but he cleverly hides these attributes by playing the clown for his father. THIS CAN BE PLAYED BY A FEMALE.
Rudyard Shakespeare aka Dopey Year 5:
Is one of Shakespeare's greatest tragedies. He has the attention span of a cocker spaniel and lives in his own world of fast food, music and video games.
Failing comes naturally to Dopey.
Clifford Tobias- Headmaster:
At 39, looks older than his years, thanks to the antics of Shakespeare and sons. Cliff is a lackey to the school board, because he fears losing his position.
Ronnie Elston-Drama Master:
Is a woman who dresses as a man to hold down her job, at this all male private school. Ronnie or Veronica is in constant fear of being found out.
Morrie McBeth
In truth, Marie McBeth is a 14 girl, forced by her father to impersonate a boy and attend his old school, Dunsinane. She is intelligent, conscientious and sensitive and for all these attributes is shunned by her classmates.
Charles Hunt-School Captain:
A bully, a crawler and a bore, he is the butt end of Terry's jokes. The only reason Charles Hunt has made School Captain is because of the influence of his father, the Chairman of the school board.
Mr Hunt:
Property developer, pillar of the community and archenemy of Terry Shakespeare. Mr Hunt has never forgiven Terry for humiliating him in Year 5 when they were students together. He sees his son Charles as a future leader.
Mrs Hunt:
Local councillor and socialite, Daphne Hunt is a realist and knows her husband and son are idiots. It's her ambition to open a Ladies' finishing school in her electorate.
Mr McBeth:
Jack McBeth is a cold calculating chauvinist, who has recently joined the board to monitor his daughter's progress.
Miss Graymalkin:
A voice on the PA system.
Sample Music
Fair is foul and foul is fair.
Out damn spot.
We were the boys.
Instrumentation / Rentals
Minimum 2 keyboard, 2 guitars, electric bass, drums/percussion. Extras alto sax/flute,tenor sax/clarinet, trumpet and trombone.
Production Costs
14% of Box Office Gross.