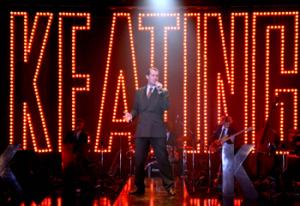 "...one of the most entertaining and slickly written shows - comedy or
otherwise - seen in Melbourne for a long time... dazzlingly funny"
Raymond Gill, Arts Editor, The Age

"This is a beautiful set of numbers"
Paul Keating
The musical Australia had to have is now available for you to enjoy performing in - and your audience to enjoy watching.
Winner of the Helpmann Award for Best Original Score.
Packed with laughs and great tunes.
This musical sold out on two national tours of Australia.
The first community theatre production will take place in March 2010 at the Theatre Royal Hobart.
Video
Authors
Related Shows
Photos

Plot / Synopsis
Keating! is essentially about the rise and fall of a political leader.
Cast
Bob Hawke.
Paul Keating.
John Hewson.
Alexander Downer.
John Howard.
Gareth Evans.
Cheryl Kernot.
Sample Music
My Right Hand Man.
Do it in Style.
Mateship.
Instrumentation / Rentals
Drums/Percussion, Electric guitar, acoustic bass guitar, keyboard, saxophone.