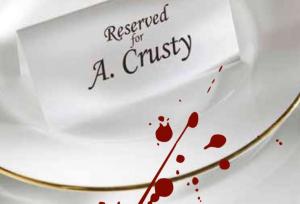 Geoffrey and Caroline Robertson are having a dinner party to celebrate ten successful years of Mighty Midget Vacuum Cleaners, the company he jointly owns with Tim McArthur, and to add spice to the evening they decide to make it a murder mystery dinner.
They are joined by a variety of employees and their partners. And Geoffrey has a special surprise – he has invited the well-known crime novelist Agatha Crusty (pronounced Croosty) to join them. She is in the area promoting her latest book and agrees to be guest of honour.
But on the evening of the dinner, their remote Victorian house finds itself in the centre of a storm so bad that the river floods and they are cut off. Worse, the power fails and in the darkness one of the guests is murdered. But since everybody else was together when the murder was committed, they are as perplexed as they are worried.
And when another murder happens in the same way it is no laughing matter… except this is an Agatha Crusty murder mystery so there are laughs a-plenty. And also a genuine mystery that will keep an audience guessing as well as laughing.
Full Length: 110 minutes approx.
Authors
Related Shows
Photos
Plot / Synopsis
Cast
Cast: 5m 6f
Caroline Robertson (30s-50s) rather snobbish wife of Geoffrey.
Geoffrey Robertson (30s-50s) full of self-importance. Co- owner of Mighty Midget Vacuum Cleaners.
Nicola Braithwaite (20s-40s) pleasant, cheerful PA to Geoffrey.
Nigel Braithwaite (20s-40s) Nicola's husband, seemingly a bit gormless, but knows his wine.
Tim McArthur (30s-50s) co-owner of Mighty Midget Vacuum Cleaners, likes a drink or three.
Anna McArthur (30s-50s) wife of Tim, solicitor, quiet but obviously very bright.
Duncan Crocker (30s-50s) looks after IT for Geoffrey's company, likeable, but pedantic.
Tanya Crocker (20s-40s) runs her own a dress shop, very capable, medium/large cleavage.
Martin Charlton (30s-50s) Financial Director, also full of his own self-importance.
Lydia Charlton (30s-50s) decidedly horsey and opinionated.
Agatha Crusty (30s-60s) crime novelist, unassuming, but very smart.
Sample Script
Production Costs
12.5%