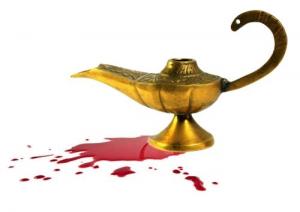 Agatha decides to stay on anyway and meets the other members of Giglinton Players, ready to start rehearsal. Sadly these are cut short when Emily (who plays Peter Pan) falls from her flying harness and is killed. The police believe it to be an accident as they do another death which occurs shortly afterwards, when Jack, an actor who helped with the flying rig, also dies falling from a ladder when adjusting theatre lamps.
Agatha however is convinced that the deaths are not accidents, and believes them to be connected, something born out when a third member of the group dies: Alan, the Stage Manager, is found suffocated in the props cupboard. And, in each case, there are clues that suggest a reference to a pantomime: Peter Pan, Jack and the Beanstalk, and Aladdin.
Not long after, there is an attempted murder on the Director, Jessica. The police at last accept that they are dealing with murders, not accidents, and – thanks to information supplied by a member of the group – they make an arrest. But it is not a decision which Agatha accepts and she sets out to prove who the real murderer is.
Duration 1:10 minutes.
Authors
Related Shows
Cast
---
Characters
(4m, 7f)
Agatha Crusty

- 30s-50s, crime novelist and amateur detective

Alan Wilde

- 20s-40s, the Stage Manager

Nick Angel

- 30s-40s

Jessica Price

- 30s-40s, the Director, pleasant, competent

Tracey Tyler

- 20s-40s, her day job is HR executive, given to 'management speak'

Juliet Phillips

- 20s-30s, a young, enthusiastic member

Gloria Bennett

- 30s-60s, the Treasurer

Jack Bradley

- 20s-40s

Emily Lewis

- 20s-30s, a young member

Anton deValera

- 40s-70s, a flamboyant luvvie, lover of Oscar Wilde

Sue Watson-Moore

- 30s-50s,

fancies herself as a detective
With the exception of Agatha all the characters are members of the Giglinton Players.
Sample Script
Production Costs
12.5% of Box Office and Photocopy license fee.