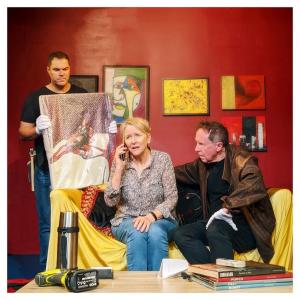 A comedy thriller about money, art, and friendship.
Suzanne Faith, a glamorous former model, partied in the 1970s with Mick Jagger. She established a London gallery with her late husband.
Her impressive private collection includes a portrait of herself by Francis Bacon which is worth millions of pounds.
A handyman attends her beautiful Chelsea home to do a simple repair job on some steps. What could go wrong?
Suzanne's old friend Margo pays an unexpected visit and refuses to leave.
Her business partner visits with some important documents. And a stranger pays a call.
Nothing could prepare any of them for the final betrayal and brutal ending.Who is deceiving whom? And how far will they go?
Find out what happens when deception becomes a fine art!
Video
Authors
Related Shows
Photos
Plot / Synopsis
AUDIENCE RESPONSE
"It's a good story, a clever, well delivered piece of theatre. Loved it"
"An extraordinary experience performed by brilliant actors"
"Can't wait to come back .. a riveting play!"
"Make sure you don't miss this amazing play! It will have you at the edge of your seats from the beginning to the end with amazing performances!"
CONDA AWARD JUDGES COMMENTS
Best new play 2022
"Audiences are taken on a journey of a home invasion in this taut thriller with characters of depth and maturity. Control of tension was apparent in the writing, from beginning through to denouement, giving the ensemble plenty to work with."
Cast
SUZANNE FAITH.
MARTY GREEN.
FULTON FINCH.
MARGO RYAN.
DANIEL FIELD.
Sample Script
Production Costs
12.5%