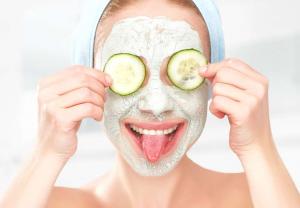 Crime novelist and amateur detective Agatha Crusty (pronounced 'croosty') decides that a spell at a health spa is just what she needs to recharge her batteries and give her inspiration for her latest book.
She books into Seventh Heaven Health Spa owned by Andy Eden who started it after the early death of his wife Evie. There she meets the other participants of the health spa weekend: members of the Zara Fernandez fashion house sales team who are there as a reward for being the highest achievers in terms of sales for the year. She also meets two members of the Seventh Heaven team: Abigail the therapist and Dmitri Popov, a Russian therapist specialising in Venik massage.
Things start well with the women experiencing the choice of spa treatments on offer (Dmitri's Venik massage using birch twigs being especially popular) until one of the group is found drowned, presumed murdered, in the Moor Mud Bath.
Enter Detective Inspector Simon Aster – a DI with a speech impediment and a penchant for complicating the simplest detection methods. When other murders follow, Agatha decides to take matters into her own hands, investigating among other things the significance of the apple tree in the health spa's 'Garden of Eden'.
There is of course a very healthy dose of humour throughout, but, being an Agatha Crusty murder mystery, this is also a genuine mystery with an ingenious plot to tax the little grey cells of the audience at the same time as making them laugh out loud.
Authors
Related Shows
Photos
Cast
Characters (in order of appearance)
Jocelyn Powers (30s-50s) Health Spa participant. Vocal and feisty in her own way - but very likeable
Geri Myers (20s-40s) Health Spa participant
Lydia Stokes-Ramsbottom (30s-50s) rather pompous Health Spa participant
Julia Whitehead (20s-40s) quiet, pleasant Health Spa participant
Christina Taylor (30s-50s) leader of group of Health Spa participants
Dmitri Popov (30s-50s) Russian therapist at the Health Spa
Andy Eden (30s-50s) owner of Seventh Heaven Health Spa
Agatha Crusty (30s-50s) Crime novelist and amateur detective
Abigail Griggleswick (30s-40s) Pleasant, rather Sloaney therapist at the Health Spa, slightly gushing and keen on fads.
DI Simon Aster (30s-50s) actually a cousin of DI Twigg (who appears in Agatha Crusty and the Village Hall Murders) and just as incompetent. Pedantic and methodical, given to wearing suits and obviously takes a keen interest in his appearance being slightly dapper in nature. He also has a speech impediment, and pronounces r's as w's.
Sample Script
Production Costs
12.5%