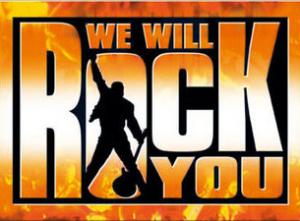 Since 2002 over 16 million theatregoers in 28 countries have been thrilled by this awe-inspiring production which is based on the songs of Queen with a book by Ben Elton (The Young Ones, Blackadder, Popcorn).
Elton fashioned this hilarious futurist comedy around more than 24 of Queen's biggest hit songs including We Are The Champions, Radio Ga Ga, I Want To Break Free, Somebody To Love, Killer Queen, Don't Stop Me Now, Under Pressure, Bohemian Rhapsody, Another One Bites The Dust and of course, We Will Rock You.
The musical takes place in a future age on a planet once called Earth that is now controlled by a mighty corporation...rock music is unheard and all musical instruments are banned. The hope of breaking free rests with an unlikely resistance-an alliance of rebel Bohemians.
Available for community theatre for the first time in the world after its 2016 Australian tour which received rave reviews and standing ovations every night.
The Australian said "It's deliriously, majestically, mad entertainment" while the Daily Telegraph described the production as "funny, cheeky, great entertainment … WE WILL ROCK YOU delivers everything it promises." Arts Hub said it is "laugh-out-loud funny", Australian Stage said it is "A hell of a fun night out" and Stage Whispers said, "This production will rock your socks off!". The Sydney Morning Herald declared, "WE WILL ROCK YOU hits all the right notes …. You will be rocked."
*An official school edition is now available in Australia and New Zealand which is different from the Global edition. It has has the same music but some of the more adult themes have been trimmed. An official Queen Educational Discovery Guide comprising the history of Queen and lesson suggestions can be read on the TRW website. Australian and NZ companies please apply for rights on the DSP website.
Spectacular Digital Scenery - can now be hired through DSP via Broadway Media. Here is a brochure.
Video
Authors
Related Shows
Photos
Plot / Synopsis
(Source is Wikipedia with updates in the Global Edition 2020.)
Act One
The story is set exactly 300 years in the future in a vaguely Orwellian world. Earth has been renamed as the "iPlanet" (Planet Mall in older productions) and is controlled by the Globalsoft Corporation. ("Innuendo") On the iPlanet, mainstream commercial conformity reigns, in which Ga Ga Kids watch the same movies, listen to computer-generated music, wear the same clothes and hold the same thoughts and opinions. Musical instruments are forbidden, and rock music is unknown. ("Radio Ga Ga")
In the newest graduating class is black sheep, Galileo, who has dreams and hears strange words in his head, most of which are lyrics of songs long since lost, though he does not understand their significance. Despite his teacher's advice, Galileo refuses to conform like the rest of his classmates. ("I Want to Break Free") Galileo is captured by Khashoggi, commander of Globalsoft's police. The teacher also reveals a second anomaly, a young, goth woman named Scaramouche who is openly mocked and derided by her peers ("Somebody to Love"). She too is arrested by Khashoggi.
Ruling Globalsoft Corporation is Killer Queen. ("Killer Queen") She has heard of a prophecy that instruments have been hidden somewhere on the iPlanet in the "place of living rock", and a "bright star" will show the way to them. She orders Khashoggi to get to the bottom of the matter and crush the rebel Bohemians who believe in the prophecy.
Galileo and Scaramouche wake up in a hospital ("Death on Two Legs" (intro)). They realise that they are kindred spirits, feared by the rest of their society. ("Under Pressure") They flee together from the hospital.
Killer Queen has blown up all the rocks on the iPlanet, but cannot find any supposed hidden instruments. She insists that they have won, and the prophecy will not come to pass. ("A Kind of Magic")
On the streets, Bohemians Brit and Oz climb out of the sewers, where they have been gathering materials to make musical instruments. Brit is a believer in the Dreamer who will fulfil the prophecy, and insists to the cynical Oz that it's the key to bringing real music back into the world. ("I Want It All") Brit and Oz hear footsteps approaching, and hide.
Galileo and Scaramouche arrive, with Galileo talking about his belief that he has a destiny. He says that he has a name for the woman: "Scaramouche". Brit and Oz reveal themselves, and accuse Galileo and Scaramouche of being spies, because Galileo keeps spouting words of the "sacred text". Galileo insists that he only hears those words in his head. Brit tests Galileo, singing the first few lines of "Bohemian Rhapsody". Galileo responds correctly with the subsequent lines, and Brit realises that he is the Dreamer of the prophecy. They bring Galileo and Scaramouche to the Heartbreak Hotel, which is located at the ruins of the Tottenham Court Road tube station, where the Bohemians have made their home. ("Headlong") Of note, the original London production is staged at the Dominion Theatre, which is located above the real Tottenham Court Road tube station.
The Bohemians explain that they take their names after singers long gone, and mourn the deaths of those who died young. ("No-One but You (Only the Good Die Young)") The group then celebrate the reason rock bands started playing music in the first place, which was for love. ("Crazy Little Thing Called Love")
Khashoggi and his police suddenly arrive at the Heartbreak Hotel, where they round up the Bohemians for capture. Brit breaks free and battles the police in order to enable Galileo and Scaramouche to escape, but in the process is killed. ("Ogre Battle")
The Ga Ga Kids of the iPlanet move on in their regular fashion in a virtual high school. ("One Vision") The applause is interrupted by the Police who round up the Bohemians for Khashoggi to torture them. ("Flash")
When he cannot get any information from them about the prophecy, he has them brain-drained. ("Seven Seas of Rhye"—interpolating "Lazing on a Sunday Afternoon")
Galileo and Scaramouche have escaped the Heartbreak Hotel, and realise that back at the hospital, tracking devices were installed in their heads. They remove them, and upon realising that they are all that's left of the rebels, they confess their love for each other. ("Who Wants to Live Forever")
Galileo wakes up, and tells Scaramouche that he had a dream that the Bohemians were sent to the Seven Seas of Rhye. Scaramouche agrees they have to go there, but then Galileo insists that she stay because she's a "chick", to which Scaramouche takes offence. They argue, and decide that both of them will go to the Seven Seas of Rhye, but their relationship will be purely professional.
Back in Killer Queen's boudoir she sings triumphantly with her hand maidens. ("Fat Bottomed Girls") Khashoggi reports that the Bohemians are no longer a problem. Killer Queen prematurely starts to celebrate. ("Don't Stop Me Now") Khashoggi interrupts her, explaining that Galileo and Scaramouche escaped. Killer Queen declares this is the last time Khashoggi has disappointed her, and has him brain-drained. ("Another One Bites the Dust")
Galileo and Scaramouche are making their way to the Seven Seas of Rhye, arguing all the way. ("Hammer to Fall") Back at the heartbreak hotel the Bohemians are listless. Buddy is the only one still standing and singing. ("These Are the Days of Our Lives") When Galileo and Scaramouche arrive, Buddy explains the full nature of the prophecy to them as inscribed by the three remaining members of the band Queen just before they were sentenced to death (Brian May, his last request being a final guitar solo, apparently delayed his execution for three and a half days). Scaramouche figures out that the bright shining star of the prophecy is rock star Freddie Mercury's statue, and that it's pointing to Wembley Stadium, the "place of living rock". After initially preparing to travel by bicycle, (opening of "Bicycle Race") Scaramouche protests that the method "isn't very cool", and so they travel there by motorcycle. ("Headlong (reprise)")
Wembley Stadium is in ruins, with no instruments to be found. Reconciling and their love for each other rekindled ("Love of My Life"), Scaramouche inspires Galileo to perform the opening of "We Will Rock You", and an electric guitar is revealed.
Galileo cannot play it, but Scaramouche can. Buddy hacks into Globalsoft's network so their music can be heard by everyone on the iPlanet, and Killer Queen is defeated. ("We Will Rock You / We Are the Champions")
After the curtain calls ("We Will Rock You (fast version)"), a question appears that says "Do you want 'Bohemian Rhapsody'?" Everybody in the audience is supposed to shout yes, and the answer appears as "Oh...alright then" and the entire cast perform "Bohemian Rhapsody" as an encore.
Cast
Galileo Figaro – The central character of the musical; a dreamer who hears strange words in his head. He is eventually revealed to be a reincarnation of Freddie Mercury. The character's name is a reference to the lyrics in the Queen song "Bohemian Rhapsody".
Scaramouche – A sarcastic, cynical character and Galileo's love interest. In the finale she shows talent playing the electric guitar, and Galileo declares that she is a reincarnation of Brian May, only this time "he's a babe". The character's name is a reference to the lyrics in the Queen song "Bohemian Rhapsody".
Killer Queen – The villain of the musical, she rules over iPlanet with an iron fist. The character's name is a reference to the Queen song "Killer Queen".
Brit short for Britney Spears, is the main male Bohemian rebel.
Oz – is the main female Bohemian named after Ozzy Osbourne.
Commander Khashoggi – Killer Queen's second-in-command, he is head of Globalsoft's police and carries out Killer Queen's dirty work. The character's name is a reference to the Queen song "Khashoggi's Ship" (which is about the real life Saudi arms dealer Adnan Khashoggi).
Buddy – An elderly librarian trying to figure out the "exact date the music died".
Teacher.
Minor Bohemian characters includes: Madonna, Bruce, Jackson, Paul, Mick, Puff, Sixx, Aretha and Quatro.
Chorus - Ga Ga Kids, Teachers, Teen Queens, Yuppies, Bohemians, Doctors.
Sample Music
I Want To Break Free
Flash
We Are The Champions (Underscore)
We Will Rock You
Sample Script
Instrumentation / Rentals
Bass Guitar, Electric Guitar 1, Electric Guitar 2, Keyboard 1 (MD), Keyboard 2 and Percussion. Plus Piano Vocal and a Superb CD backing track.