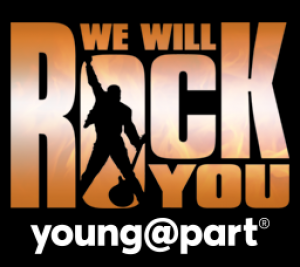 WE WILL ROCK YOU Young@Part® is the authorized 60 minute edition of the West End musical for primary and middle year High schools, and youth theatres. Inspired by and featuring the songs of Queen, this new version of the show is perfect for kids to perform! Through a series of workshops, our Young@Part® musicals are tailor-made for younger actors.
Song keys are changed where needed, songs and scenes are edited for time and content, while keeping the spirit of the original West End show intact. There are great parts for girls, boys and can include any sized ensemble/chorus, who appear throughout the show.
Each Young@Part® title comes complete with Performance Tracks, Guide Vocal Tracks, Director's Guide, and 30 Student Scripts.
An official Queen Educational Discovery Guide comprising the history of Queen and lesson suggestions can be read on the TRW website. Australian and NZ companies please apply for rights on the DSP website.
Authors
Related Shows
Photos

Plot / Synopsis
Featuring chart-topping Queen songs including "Another One Bites the Dust," "Bohemian Rhapsody," "Killer Queen," "We Will Rock You," "Somebody To Love," "We Are the Champions," and many more, this 70-minute adaptation of the West End show follows two young rebels as they restore rock 'n' roll to "the iPlanet" in a post-apocalyptic world. WE WILL ROCK YOU Young@Part® is a musical for our time: a fist-pumping, foot-stomping anthem to individuality.
Cast
WE WILL ROCK YOU Young@Part® is designed for performers aged 6 to 14 years of age with a maximum age of 18 permitted in certain circumstances.
Instrumentation / Rentals
Piano Vocal and CD Backing Track.
Production Costs
The cost is variable depending on the size of your audience capacity, ticket price and age of performers. Please complete the additional info form when you apply for the rights for a precise quote.