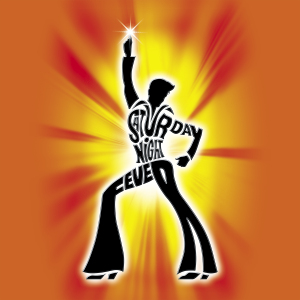 Australian and New Zealand community theatres are the first in the world to be given permission to stage this iconic musical. The movie is credited with defining the 1970's, the sound track sold 25,000,000 copies and since it debuted on Broadway the musical adaptation has set pulses racing around the world.
It was described by one reviewer as a "one of a kind miracle in song, dance and simplicity."
The central character is a 19 year old in a job going no-where whose life lights up on the disco floor.
The music by the Bee Gees includes their classic hits Stayin Alive, Night Fever, More than a Woman and How Deep is Your Love.
It has a large cast with terrific ensemble dancing opportunities.
To see the potential of the show check out the show reel from the New Zealand community theatre premiere in May 2015.
Video
Authors
Related Shows
Photos
Cast
Principals
FOSCO - Middle aged or older paint shop owner.
TONY – A 19 year old ladies man living in the 1970s. His passion is dancing on a Saturday night down at the local dance club. Must be charismatic and a dynamic dancer.
FLO – Middle aged very religious mother of Tony.
FRANK – Unemployed middle aged father of Tony.
BOBBY C - A troubled youth. Bobby's life gets turned upside down when he gets his girlfriend Pauline pregnant.
DOUBLE J - A friend of Tony Manero.
JOEY - A friend of Tony Manero.
ANNETTE - A sex-crazed girl. Annette is obsessed with Tony and even though she loves him, only wants to use him for one thing.
DOREEN – A shy geeky teenager at the Odyssey 2001. She has an obsession with Tony and is fixated by watching him dance.
STEPHANIE – A 20 year old office worker from Manhattan. Stephanie classes herself as a refined citizen and convinces Tony she is a snotty bitch, however she is the complete opposite.
FRANK MANERO JUNIOR - Tony's priest brother. After leaving the church and returning home, Tony takes him clubbing, their mother Flo flips on both of them.
MINOR PARTS
LADY CUSTOMER
SECOND CUSTOMER
THIRD CUSTOMER
LINDA – Tony's little sister.
JAY- Stephanie's dance partner.
MONTY – DJ.
HOUSE SINGER.
GIRL
PUERTO RICAN
CESAR AND MARIA- Spanish dancers at the Odyssey 2001.
CONNIE – Sultry Blonde.
POLICE OFFICER.
Chorus
Citizens
Sample Script
Instrumentation / Rentals
11 parts. Alto Sax 1, Alto Sax 2, Drums, Elec Bass, Guitar, Key 1 (Piano Vocal), Keys 2, Percussion, Ten Sax, Trumpet 1 and 2. Strings in select songs can be extracted from the keyboard 2 part.
Production Costs
17 Percent of Box Office.