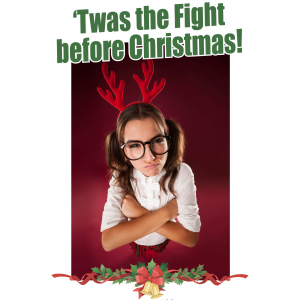 Think your family is complicated? Meet the most dysfunctional family you can
imagine as they try to navigate Christmas.
Peace on earth and good will to all
men? Not likely!
Ever since her husband died, Mary's horrible adult children have been ruining Christmas.
This year, with the help of a suicidal French psychiatrist, Mary is determined to take Christmas back.
Hilarious and uplifting Christmas comedy.
Authors
Related Shows
Photos

Plot / Synopsis
The play is set on Christmas Eve, with the exception of scene one, which is set the day before. There are two locations... Jean Pierre's home office and Mary's quaint living room complete with grandfather clock, Christmas decorations, tree, and a large "Peace on Earth" wall hanging.
Length
: 2 Acts (110 minutes)
Cast
Mary Harvey:
56 years old. A gentle, easily dominated, woman who recently lost the husband she had depended on to maintain order, and sanity, in her family. Last Christmas was an absolute disaster without her husband to take charge of their rotten children Stella and Amanda.
Jean Pierre:
Mid-forties - mid sixties. A burnt-out French psychologist with a pet rooster. Neighbour to Mary. He does have a French accent but speaks fluidly and with pace, using pauses for effect.
Stella Harvey:
Mid-thirties. Elegantly and expensively presented, Stella is a selfish, manipulative and domineering woman who takes advantage of others in order to support a lifestyle she cannot afford.
Amanda Harvey:
Early thirties. Dippy, manipulative, childish. In love with Desmond, her sisters partner.
Desmond:
Mid-thirties. Stella's partner. Intelligent but not socially smart. In love with Amanda.
Ivy:
Fifties to sixties. Conspiracy theorist, quite possibly, and most likely, stark raving mad.
Sample Script
Production Costs
12.5% of Box Office.