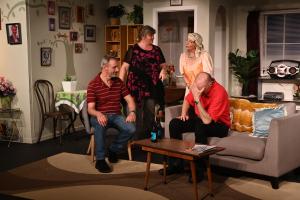 For the past six years, Brett has had to spend Christmas single-handedly managing his monstrously difficult mother while keeping the truth from her that her favourite son, Simon, is not a successful businessman overseas but is in jail. This Christmas, Brett plans to skip town and leave Mum with the newly released Simon.
Unfortunately, for the hapless Brett, nothing comes easy, and he finds himself trapped in his mother's apartment with the mob mistaking him for Simon and calling in prison protection debts.
Will Brett be able to keep Simon's secret, appease the murderous mob, and keep his mother from driving him completely mad? He's going to try!
Authors
Related Shows
Photos
Plot / Synopsis
The play is set in the lounge/dining room of Tess's rented apartment on the fifth floor of an apartment complex. There is a doorway (with possibly a servery window) to the kitchen, a hallway to bedrooms, a window to the street below, a cupboard door, and a front door to the apartment. The play is set now. The location is a city near you.
Cast
Tess 70's, female. Mother to Brett and Simon. Overly caring for Simon and dismissive of Brett. Although she is often insulting to others, this is usually more matter-of-fact than aggressively nasty... usually, but not always!
Brett 50's, male. Married to Karen. Driven by a need to solve everyone's problems. Self-sacrificing and easily manipulated, especially by his mother and brother. Brett is in desperate need of learning to say "no". A manager in the paint department of the local Bunnings store (or equivalent home improvement megastore).
Simon 50's, male. Charming and manipulative, has served time in jail for fraud. Apparently, now reformed... but absolutely not. Positive, upbeat and self-serving.
Gioli 30's - 50's, female. A stylish gangster with a strong New York mobster accent. Gioli is charming, upbeat, cheerful, and, when she needs to be, menacing and violent.
Olga 74, female. "Russian-esq", Tess's new neighbour and friend. Has a penchant for Eastern European proverbs.
Sample Script
Production Costs
12.5%