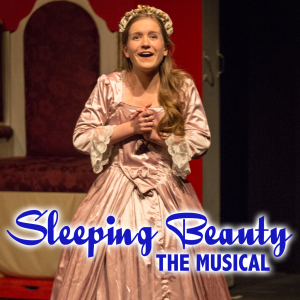 Delightful new musical adaptation of the classic with bright tunes, lots of laughs and an Australian sensibility.
Available with superb backing CD or piano vocal.
First staged in 2013.
Authors
Related Shows
Photos
Plot / Synopsis
We join the King and Queen of a far off kingdom as they celebrate the christening of their long awaited daughter Princess Crystal.
Everyone in the kingdom has been invited except the Bad Fairy. Nevertheless, the Bad Fairy gate crashes the party and being deeply offended at not being invited casts a very nasty spell on the new Princess – she will die when she is 16 when she pricks her finger on a spinning wheel. The King then orders all spinning wheels in the kingdom to be destroyed.
Sixteen years later we join the princess about to celebrate her 16th Birthday. The Bad Fairy's curse has been long forgotten. Unfortunately, during the course of the Birthday celebrations and a game of hide and seek the Princess discovers an unexplored room in the castle where she meets with a quaint old lady (the bad fairy in disguise!) with a spinning wheel. The Princess soon pricks her finger and lies dying. Fortunately the Good Fairy comes to the rescue by weakening the Bad Fairy's curse – but this means plunging the entire Kingdom into sleep until a the Princess can be awakened by a Prince with a true heart.
100 years later, Prince Goodhearted of Fingalshire (a neighbouring far off Kingdom), has returned from yet another disappointing quest to find himself a beautiful princess bride. His father and mother are dismayed to say the least – incidentally, it turns out that his father was formerly the frog who was kissed by a beautiful princess – and now here they are King and Queen of Fingalshire and living happily ever after.
Under some duress from his parents, Prince Goodhearted assisted by his loyal servant Simon resumes his quest for true love. Together they search their way via twisting paths and Woodsman who is au-fait with the ways of the Wavering Wizard to find the enchanted Castle in the sleeping kingdom.
There the Prince finds his sleeping princess and kissing her the spell is broken – Naturally they marry and live happily ever after! (The prince not the least bit concerned that his beautiful princess is now 116 years old)
Cast
KING – Sleeping Beauty's Father sings in chorus songs
QUEEN – Sleeping Beauty's Mother sings in chorus songs
PRINCE GOODHEART – Our handsome Prince aged 18 – 22 good strong singing voice
SIMON – The Prince's personal aid– sings in chorus songs
CONNIE THE COOK – Excitable sort – has solo song – ability to bake cake in a hurry a bonus
MOLLY THE MAID – Princess' maid in waiting – slightly older than Princess – solo song
TWO HERALDS – Young Courtiers – good voices.
WHITE FAIRY – Leader of the good fairies – sings in chorus song
EVIL FAIRY - 'Tawny' – the fairy who went wrong – evil, but a good dramatic singer
SIX GOOODFAIRIES – wings and tutus - Pink, Blue, Yellow, Lilac, Aqua and Orange
WOODSMAN – A peasant in the woods with an attention to detail
2ND KING – Former frog and Father of Prince Goodheart – good tenor voice
2ND QUEEN – Formerly the princess who kissed the frog – sweet voice for duet with 2nd King
GUESTS – the more the merrier for chorus songs – a couple of speaking roles there
DANCERS – these can double as guests and perform dance sequences
Sample Music
Somehow I'll Find Her.
Stir and Chop and Beat and Pour.
Birthday Princess Backing Sample.
Happy Ever After Backing Sample.
Instrumentation / Rentals
Piano Vocal and CD Backing Track
Production Costs
12.5% of Box Office Gross