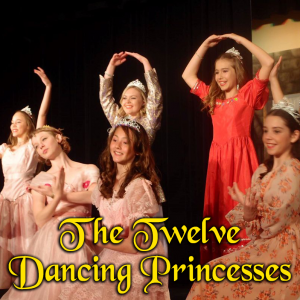 A delightful new musical based on the fable by the Brother's Grimm.
Twelve princesses, each more beautiful than the last, sleep in twelve beds in the same room. Every night, their doors are securely locked. But in the morning, their dancing shoes are found to be worn through as if they had been dancing all night.
The king, perplexed, promises his kingdom and each daughter to any man who can discover the princesses' midnight secret within three days and three nights, but those who fail within the set time limit will be put to death.
Authors
Related Shows
Photos
Cast
KING ALBERT – The King
LADY MONICA – The King's Sister in-law
KITTY – The Head Maid
THE 12 PRINCESSES
ANNABELL
BELLA
CHARLOTTE
DAPHNEY
EDITH
FELICITY
GEORGINA
HEATHER
IRIS
JENNIFER
KATY
LUCY
CAPTAIN SIMON HOYTS - Hero
DANNY – Drummer Boy
BILL – Lady Monica's Servant
MIKE – Lady Monica's Servant
POLLY - Maid's Assistant
ROGER WHITMORE – Unsuccessful Hero
OLD LADY –
VILLAGERS –
GLADYS BETTSY MAUD
3 STALL HOLDERS – "Marketeers"
Sample Music
Overture
We just want to fall in love
Love at First Sight
Magical powers
Just try us once
Village Life
Sample Script
Instrumentation / Rentals
CD Backing Track Available.
Production Costs
12.5% of Box Office.