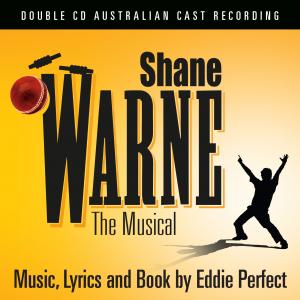 "Eddie Perfect's oh-so-clever-song book with songs ranging from soul and rock to Bollywood and R & B is.. incredible." The Age. ( 4 Stars)
"Full of witty lyrics and great melodies." Stage Whispers.
"Entertainingly depicts the King of Spin with admiration and wry humour." Herald-Sun.
A wild, funny and outrageous musical romp through the life and times of one of the world's greatest cricketers.
Tracing his story from a teenager to international spin sensation to scandal after scandal, then his unlikely romance with Liz Hurley.
First staged in 2009 under the direction of Neil Armfield and then a further triumphant season under the direction of Simon Phillips in 2013.
It has a sparkling orchestration commissioned by the Adelaide cabaret festival.
Order a perusal and you can keep the sensational double CD cast album.
Click on the sample music tab to hear five songs by Eddie Perfect, Lisa McCune, Amy Lehpammer, Verity Hunt-Ballard and Christie Whelan-Browne.
Video
Authors
Related Shows
Photos
Plot / Synopsis
Act One:
Begins with (The Tale of Warne ) an all-Australian hero who held the hopes of a nation in the palm of his right hand.
As a teenager he's urged to ( Run ) in training for a failed Aussie Rules career and later as a pizza delivery boy.
His talent as a cricketer is spotted by The Australian Institute of Spots A.I.S (That's how you spell success) where he is drilled in batting, fielding and catching.
However his attitude to training is a little unprofessional due in part to his love of beer (We're Going There) and gambling which
prompts his mentor to warn him against ( Pissing it All Away ).
Young Shane finally gets into fitness ( Training montage ) which segues into an awesome power ballad ( Hollywood ) about
Australian and international heroes.
Now in the Australian Test team in England for the Ashes he dazzles the cricketing world with ( That Ball ).
After the unforgettable dismissal of England's captain the whole world is ( Payin Attention Now ).
In 1992 at a charity golf event Shane meets his wife-to-be Simone and predicts that one day she will be ( Dancing with the stars ).
But soon ( The Away Game ) begins. On tour Shane is "a lone rooster cruising a farm of free-range chickens "
and he becomes embroiled in an Indian betting scandal ( My name is John ).
ACT TWO:
One scandal follows another. The Aussie cricketers on-field sledging ( We Never Cross the Line),
Warne's indiscreet text messages ( What An S-M- S Mess I'm in ) and a tryst with a nurse ( Donna Wright ) leave his wife Simone
struggling to understand him ( Is the Sun the Moon? ).
His coach Terry Jenner works to lift his spirits ( Pick Up Shane ). Then in ( Shine Like Shane ) he admits to have made some wrong decisions
but won't apologise to the public for not conforming.
Simone laments the lies ( What About that ).
Shane dives back into the battle for ( The Ashes ), on and off the field his job is to ( Spin, spin, spin ).
Shane retires and meets Elizabeth Hurley ( It's Love ).
Together they set the world on fire and celebrate their bliss with a reprise of ( Dancing with the stars ).
Cast
There are 42 characters and chorus. This is a mixture of major and minor roles both male and female.
The minimum requirement with doubling is a cast of 9.
CHARACTER BREAKDOWN ACT ONE.
Broken down in order of appearance.
CHARACTER BREAKDOWN ACT TWO
Sample Music
Run. (Eddie Perfect and company)
My Name is John. (Joylon James.)
What An SMS Mess I'm In. (Eddie and superstars)
What About That Shane. (Lisa McCune.)
The Tale of Warne. (Whole Company.)
Sample Script
Instrumentation / Rentals
This musical has a magnificent score commissioned by the Adelaide Cabaret Festival in 2013. The parts are Bass, Cello. Drums, Guitar, Horn in F, Oboe, Percussion 1,2,3, Piano, Reed 2 ( Alto Sax and Flute), Reed 3 ( Tenor Sax and Clarinet ), Reed 4 ( Baritone Sax and Bass Clarinet ), Trombone. Trumpet 1, 2, Viola, Violin 1, Violin 2. Smaller orchestration is available which replace the strings and brass making it a 12 piece orchestration.
Production Costs
14% of Box Office Gross.