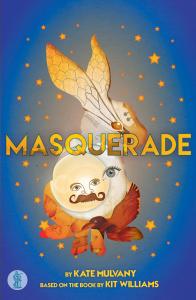 A gorgeous musical adventure based on a children's classic.
In a wondrous world of riddles and hidden treasure, bumbling Jack Hare is on a race against time to deliver a message of love from the Moon to the Sun. Far, far away in a world just like ours, a mother cheers her son Joe with the tale of Jack Hare's adventure. But when Jack's mission goes topsy-turvy, Joe and his mum must come to the rescue, and the line between the two worlds becomes blurred forever.
Bringing to life Kit Williams' iconic picture book,
Masquerade
stars a talking fish, a tone-deaf barbershop quartet, a gassy pig, a precious jewel and a few mere mortals. It's a magical adventure that is, at its heart, about the love between a parent and a child.
"With Kit Williams himself as mentor and friend, she has interwoven her own story and the magic that is Masquerade into a beautiful and moving piece of theatre, which, like the book, has universal appeal." Stage Whispers.

"Music by Mikelangelo and the Black Sea Gentlemen is wonderful, and provides a perfectly eclectic underscore of gypsy-classical-rock." Theatre People.
Video
Authors
Related Shows
Photos
Cast
Joe - a 10 year old boy.
Tessa - Joe's mother.
Jack - a hare.
Moon - a raven haired woman.
Sun - a fair haired man.
The man who plays the music that makes the world go round - the keeper of time.
Fat Nurse - feels nothing.
Fat Pig - feels everything.
Penny Pockets - seller of goods and bads.
Tara Treetops - seller of dreams.
Craw - a crow.
Sir Isaac Newton- a philosopher.
The practical man - an opportunist.
Fish - a fish.
Dawn - an early morning walker.
Barber Bob, Barner Bill and Barber Barbara - an incomplete quarter.
Medical Staff - humourless ghouls.
Writers Note. In this play any one actor can play several; different characters . Ideally the cast size should be no less than six performers who double through out the show.
Sample Script
Instrumentation / Rentals
Piano Conductor. Clarinet. Double Bass. Percussion. Keyboard. Violin. Guitar. Resources include a superb CD backing track and reference recording of the original production.
Production Costs
16% of Box Office.