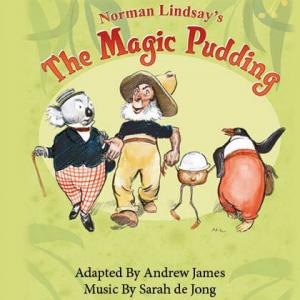 The Magic Pudding, written and illustrated by Norman Lindsay, was published in 1918 and quickly became one of Australia's most loved children's books. It was created by Lindsay in order to win a bet that children are more interested in food and fighting, than fairies. English novelist Philip Pullman described it as "the funniest children's book ever written".
Many stage adaptations over the years were puppet shows. In 2010 playwright Andrew James and award-winning composer Sarah de Jong were commissioned by the Marian Street Theatre for Young People, to create this new adaptation. This musical is the first version of The Magic Pudding specifically written to be performed by actors as opposed to puppets – except for one!
"Lindsay's humour and love of Australian slang are brought to the stage with bold strokes. It's light, good- humoured children's holiday entertainment." The West Australian.
"Aussie playwright Andrew James' script is loaded with witty one-liners, sight gags and plenty of audience participation." Goulburn Post.
Video
Authors
Related Shows
Photos
Cast
All characters are played by actors except Albert who is a puppet manipulated by an onstage puppeteer. The puppeteer might be dressed like a chef.
BUNYIP BLUEGUM – A Young Koala Bear
ALBERT "THE MAGIC PUDDING" – A Puppet controlled and voiced by an onstage puppeteer
BILL BARNACLE – An ex sailor
SAM SAWNOFF – A Penguin, also an ex sailor and Bill's best mate
POSSUM – A Possum
WATKIN WOMBAT – A Wombat
UNCLE WATTLEBERRY – A koala Bear with huge whiskers, Bunyip's Uncle
BANDICOOT – A Shy Bandicoot
CONSTABLE – A Constable
DOBSON DORKING – A talkative Rooster
MAVIS DORKING - Dobson's wife
BEN BRANDYSNAP – A Dog
JUDGE
USHER
CHORUS:
When actors are not needed as their core character, they can join in on songs, be villagers, townsfolk, musicians etc in any way that the director decides. Doubling of characters is possible with a smaller cast.
The script employs the use of shadow puppets in several scenes.
Everything in italics is sung.
Sample Script
Instrumentation / Rentals
Flute Clarinet in B Acoustic Guitar Piano Keyboard Bass Drum Percussion
Production Costs
16% of Box Office. Purchase of scripts. Rental of orchestrations.