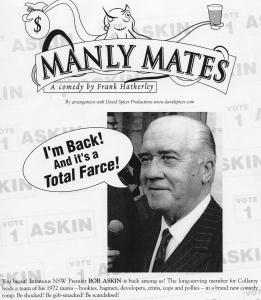 Set in 1972, Manly Mates features the most famously controversial state premier of them all, Sir Robert Askin. He and his Police Commissioner took regular bribes from crime bosses. He sold knighthoods. He took regular cutbacks from developers. In Manly Mates he holds court to a team of his more outrageous Sydney mates, movers and 'business identities'.
These included the Commissioner, a property-developing Councillor, an SP bookie, a strung-out bagman, an apprentice female politician prepared to give her all, a Mafia salesman from Chicago, and, hilariously, Bob's sherry-drinking wife Mollie.
They all collide at the beautiful old Hotel Manly, in an upstairs bar overlooking the ferry wharf, where Bob's regular drinking/betting Saturday is destined to spin out of control under the eager eye of an undercover cub reporter from 'The Manly Daily'.
Hatherley's high-energy play is built on classic farce foundations. Taking his lead from Feydeau, his fiendish plot leads all the colourful characters into spiralling turmoil. And it's all based on 'Underbelly'-style fact. Every role is a challenge for big comedy performances.
Stop Press : DSP has just published Manly Mates in a compendium with Open For Inspection and My Henry Lawson. Order your copy now.
Authors
Related Shows
Photos
Cast
(7M 4F)
Bob Askin, 63, cool, calm, deadly
Norm, 62, Commissioner of Police, corrupt, dictatorial
Keith, 40s, hotel manager, in debt
Kev, 30s/40s, shifty local councillor
Baz, 20s, coked-out bagman
Joe, 45s, depressed Chicago Mafia man
Brian, 20s, eager young cop
Mollie, 61, superficial first lady, often tipsy
Pat, 20s, keen undercover journalist
Virginia, 30s, rich Liberal candidate, knows the score
Peg, 50s, working class telephonist, plays piano
Production Costs
Rights 12.5% of Box Office. Setting requirement Single set of bar and clubroom in run-down, once-grand hotel, with several doors that open and shut with farcical regularity.