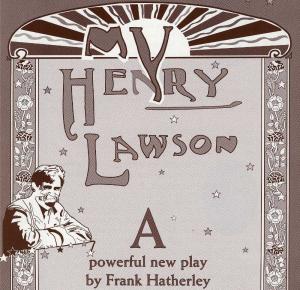 Covering the years 1896-1902, this revealing three-hander - by turn comic and searing - examines the traumatic marriage of Henry and Bertha Lawson, as well as confronting those two enduring icons of the Australian imagination, Lawson and 'Banjo' Paterson.

Middle-aged Bertha Lawson delivers a lecture to the NSW Poetry Society in 1923. She calls her censored version of history 'My Henry Lawson'. But, as she speaks, we see the reality of her life with the famously unreliable poet.

In 1896 'Banjo' Paterson is Lawson's solicitor as well as his rival 'bush poet'. Stunned to discover that the cash-strapped, heavy-drinking 30 year old Lawson has secretly married a 19 year old nurse, Paterson tries to advise his client.

The action follows Henry and Bertha to the goldfields of Western Australia, and then to London, literary heart of the Empire. When Paterson comes to London in 1902 on assignment from the Sydney Morning Herald he finds the Lawsons in a desperate condition. Bertha's sanity is under attack. But when the Lawsons return to Sydney it is Henry who attempts suicide - from a Sydney Harbour cliff top.

The play includes excerpts from 8 of Lawson's more self-revealing poems.
Stop Press: DSP has published My Henry Lawson in a compendium with Manly Mates and Open For Inspection. Order your copy now.
Authors
Related Shows
Photos
Plot / Synopsis
Setting requirements

7 scenes, simple non-realistic presentation, ideal for in-the-round presentation
Cast
The play offers exceptional opportunities for three talented performers.

Henry Lawson, 30-36; thin, explosive, often desperate
'Banjo' Paterson, 33-39; handsome and successful
Bertha Lawson, 19-25; at first romantic and bright-eyed, later desperate (prologue/epilogue shows her in her late 40s)
Production Costs
12.5% of Box Office.