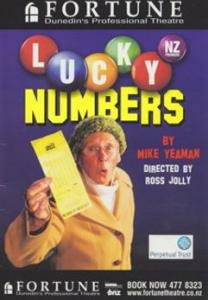 Nana is losing control – of her mind and her life. Forced to live with her daughter Janice and her feckless family, Nana is frustrated with how they live.
When her winning numbers come up on the Lotto, the family are ecstatic – until it becomes clear that Nana won't disclose the ticket's whereabouts – if she even knows herself, or bought it in the first place. She wants changes made around the place before the family will get a share of the jackpot.
When all searching proves fruitless, Janice decides the family need to transform themselves into model individuals until Nana is convinced. Layabout husband Ronnie will have to don a suit and pretend he has a proper job and overweight teenager Steven is going to have to look more active. Goth granddaughter Lisa will also need to meet Nana's approval.
THREE professional productions in the UK,
FIVE professional productions in Scandinavia, and
ONE professional production in New Zealand
---
"… an outrageously witty script… yet what makes this piece so special is his ability to combine the hilarious with the beautiful… a captivating show….a winner of a production."
(W
hatsonstage.com)
Duration 110 minutes.
Authors
Related Shows
Photos

Cast
Characters
(4m, 3f)
The Pattersons
Nana

-

84, a bit forgetful
Janice - her daughter
Ronnie - her son-in-law
Lisa - her granddaughter, a grungy teenager
Steven - her grandson, an overweight teenager
Others
Mick - Janice's friend, shorter than Ronnie
Shane - Lisa's boyfriend, mohican, thinks he's cool
Sample Script
Production Costs
12.5%