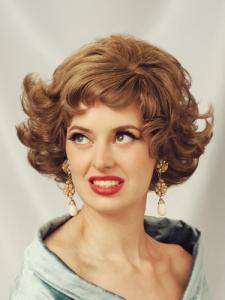 It's blue-rinse murder at the last chance salon!
When Ruth inherits her Aunt's antiquated hair salon, the antiquated clientele comes with it. The old girls' weekly shampoo and sets are put on hold however when Ruth enters a prestigious hairdressing competition - her desperate attempt to drag the salon into the twenty-first century.
Ruth shuts up shop to surreptitiously work on her competition entry (Elenka, a Slovakian model, who has arrived for a special hair creation), but a locked door and a 'closed' sign is no deterrent for the spirited blue-rinse brigade. When they finagle their way in, Ruth's assistant, Bryony, is forced to make everything seem 'normal' to them, so they won't suspect that Ruth has even entered the competition, as winning it means end of their cosy way of life.
Authors
Related Shows
Photos

Cast
Characters
(3m, 7f)

Ruth - 32, a highly skilled hairdresser, owner of 'Coiffure de Dames'
Bryony - 17-19, junior / trainee hairdresser
Dr Lemon - 40, the local GP (m)
Elenka Svecova - 22-25, a Slovakian model
Dolly Chorlick - 80s, the Salon helper and tea lady
Mrs Enid Cotterill - 80s, a client at the Salon
Mrs Mavis Lundy - 80s, a client at the Salon
Jordi Chinchilla - 38-42, Spanish photographer (m)
Gonky Blatent-Severs - 30s, Assistant Editor for 'Fab Hair' magazine (f)
Mr Woodpigeon - 60+, Health and Safety officer working for Westminster City Council
Sample Script
Production Costs
12.5%