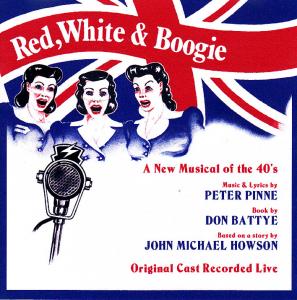 "Lots of laughs in this witty show" (Sun)
It Happened In Tanjablanca is a musical 'whodunnit' based on dramatic films of the 1940s. It features a cast of recognizable characters which include an American film star, a tweedy English eccentric and a European Countess. Echoes of Marlene Dietrich, Carmen Miranda, and Peter Lorre abound.
Set in Tanajablanca, a mythical city somewhere between Tangiers and Casablanca, the story takes place in the foyer of a seedy hotel where a group of shipwrecked survivors are holed up, and an international financier ends up shot, strangled and stabbed.
In a later rewrite, still using the same story, it was called Red, White & Boogie.
Authors
Related Shows
Photos
Plot / Synopsis
Two shipwreck survivors, the countess Popesceau and Miss Fotherington, arrive at a seedy hotel in Tanjablanca run by a cheeky little Arab, Ali. They are followed soon after by Viya Con Dios, a Hollywood film star, and Chuck, her manager. Digger, an Aussie soldier, is fascinated by the countess.
Fotherington is more interested in Hugo de Witt who owns the hotel. Viya lets it slip she has negatives from the Embassy and later that night they are stolen. Ali has them.
The Countess seduces him into giving them to her. Later when all is quiet, there is a gunshot and it is discovered that Hugo has been shot, strangled and stabbed in the basement.
All of the occupants are horrified, but none of them want the police involved so they decide to sell the body in the Casbah. They wrap the body in bandages to disguise it and throw it out the window for Ali to collect – but the body disappears!
After a frantic search the body is found – coinciding with the arrival of the Police Chief. After they are questioned about the murder, the Countess calls the Chief and tells him she'll tell him who killed Hugo in exchange for a new passport.
She accuses Fotherington, and she confesses … but when it is discovered that the Police Chief is really Chuck in disguise, Fotherington is not arrested, after all – in Tanjablanca, anyone can get away with murder.
Cast
Ali – Indeterminate age, but could be 40. A seedy little Arab, who for a price, can get you anything on the black market. Think Peter Lorre.
Countess Popesceau 40-50 A woman of the world with secrets. She has lived in many countries, and has been in many beds. Beautiful and mysterious. Chest voice is desirable, but her songs could be speech sung if necessary.

Miss Fotherington 40-50 A no nonsense, stiff upper lip, Englishwoman who has been teaching petit-point to the Churaco Indians in Guatamala. Gung ho, and passionate about the Mother country. Think Dame May Witty, Margaret Rutherford, or Cicely Courtneidge.
Viya Con Dios 30-40 A dumb, vacuous, blonde Hollywood film star. She is famous for playing Latin characters. Think Carmen Miranda, Alice Faye, and Betty Grable.
Chuck 30-40 An American agent who's somewhere near the bottom of the food chain. Viya is his meal ticket. Think Billy De Wolfe.
Police Chief 40-45 A police chief who is willing to be bribed on the side. Someone who looks after himself.
Digger 30-40 A true blue Aussie digger. Drinks beer, wears shorts, and speaks like an 'ocker.' Think Chips Rafferty.
Doubles: Chuck/Police Chief

Sample Music
In Leicester Square.
Digger Song.
She's Coming to Town Today.
Down South America Way.
Heaven Bound Choo-Choo-Choo.
Shot Stabbed and Strangled.
Sample Script
Instrumentation / Rentals
CD Backing Track. Piano - or Piano Bass Drums.
Production Costs
14% of Box office gross.