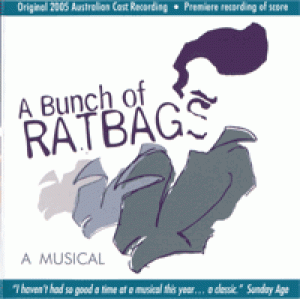 "I haven't had so good a time at a musical this year… a classic." (Sunday Age)
Based on the controversial book of the same name, A Bunch of Ratbags is a funny, abrasive, and confronting look at teenage delinquency during the rock 'n' roll 50s in Melbourne.
A young man rises to fame and glory as the leader of a teenage gang, then deals with the downfall, and eventual escape from his environment.
The show was recognized in the 2004 Victorian Arts Centre exhibition Making a Song and Dance, as one of the musicals that made a difference to the Australian musical theatre landscape, which resulted in a much lauded production by Magnormos at Theatreworks in 2005.
Reviewing the cast recording from that production, Rob Lester (Talkin' Broadway U.S.) said "Most of the tunes are very, very catchy and bouncy. I like the music a lot."
Authors
Related Shows
Photos
Plot / Synopsis
It's the 1950s, and Terry Cooke, a young man from a rough suburb, learns very early how to take care of himself. Turning his back on his tough home life, Terry joins a gang, becomes a rock 'n' rolling 'bodgie', and takes over as the leader of the 'Goodway Mob.'
The gang become infamous throughout the area with Terry hailed as a hero – much to the chagrin of his parents. But the fights, the brushes with the law, and the hedonistic lifestyle take a toll as he heads for a nervous breakdown.
Given one last chance to reform, he gets involved with a 'good girl,' Carol, from the other side of the tracks – but one final night out with the boys turns nasty as his drunken mates try to gang rape one of the girls. Terry, repulsed, rescues her, finally seeing his lifestyle and his mates in their true light. He turns his back on the gang and sets out on a new direction with Carol.
Cast
Terry Cooke 25 A working class young man who becomes a bodgie. An operator. A leader with street smarts. Someone who's always looking for an opportunity. A tough home life fuels his anger and finds him gravitating to the local gang. He is determined to lead it one day. His initiation into sex comes at an early age. Strong tenor range.
Albie 24 A likeable kid who's easily led. Happy to follow the others. Inexperienced when it comes to girls. Light tenor voice.
Ken 25 A young man with a chip on his shoulder. Will jump into a brawl at a moments notice. Wants to be leader of the gang. Rock voice required.
Ann 20 A widgie and happy about it. Likes the boys. Good chest voice needed.
Bootlace 26 A member of the local gang who went to Sydney and became a bodgie. He introduces the cult to Goodway. Rough, tough, and always fighting. He can get any girl he wants. Rock voice required.
Sharon 20 A widgie who likes to please the leader of the gang. Chest voice required.
Charlie Cooke 45-50 A working class man who is a slaughterman. He doesn't drink, but he gambles, usually with money he can ill afford to lose. He feels the world owes him a living. He reserves his warmth for animals. He's a hoarder of junk. Must be able to carry a tune.
Judge (V/O) Authoritative voice.
Mum 45-50 Working class woman who has had to scrape together all her life to make ends meet. She saves what little she can from her housekeeping money only to have it taken from her by her husband who blows it on the horses. She's warm and caring, but constantly fights a losing battle. Soprano vocal range.
Dave 35 Charlie's mate. A slaughterman. Someone who fuels Charlie's resentment at the world and the big bosses. He smokes and drinks.
Salesman 35 An effete men's wear salesman.
Inspector 35 A train inspector who is just trying to do his job when he is set upon by the gang.
Carol 23 A nice girl who lives on the other side of the tracks. She's still working class, but her family's station in life is slightly higher than the Cooke's. They own a store. She's not stuck up, nor does she look down on others. Soprano vocal range.
Doubles:
Charlie Cooke/Judge
Dave/Salesman/Train Inspector
Sample Music
We're Going Out Tonight.
Kenny Black.
Up the Duff.
Germs
Instrumentation / Rentals
Piano or small group (Piano, Bass, Guitar, Drums)
Production Costs
14% of Box Office Gross.