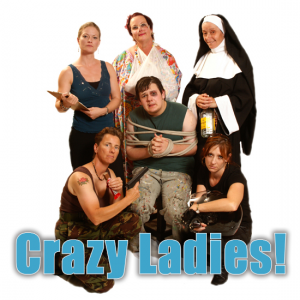 An outrageous comedy. Five school friends stage their own reunion after 25 years apart. Friendships are rekindled, secrets are revealed, a janitor is kidnapped!
Cast: 5 Female / 1 Male
Length: Two Acts (110 minutes)
Genre: Comedy
Synopsis...
Pamela Browne has organized a 25 year reunion for her four best High school friends.
From the moment Kay, now a chocoholic gun toting funeral director, arrives the wheels begin falling off Pamela's meticulously planned weekend.
Added to the mix is Sandy, who is now a Nun, Dianne, married the school nerd and a mother of eight sons, Rachel, a runaway teenager on a mission to dig up some dirt on her mother, and Shaun, the greasy motel janitor. This outrageous comedy is a rollercoaster ride of emotion.
Authors
Related Shows
Photos
Cast
Dianne Bartlet: Neck brace and two broken arms, clumsy, dizzy, not too smart, mother of eight. Married to the school nerd. Homemaker. Secret smoker.
Sandy: Dressed as a nun. Good sense of humour and a mostly well adjusted individual.
Rachel (Jr) Simpkin: Daughter of apparently deceased mother. Rebellious teenager.
Rachel (Sr) Simpkin: Original member of the gang. Formerly best friend of Kay.
Kay: Chocoholic. Funeral director, street smart, a little rough around the edges.
Pamela Browne: Organizer of the weekend, career woman, 8 weeks pregnant (not noticeable), obsessively ordered and clean. Dressed in a women's business suit.
Shaun Phillips: Motel employee. Former high school stud who is a shadow of his former self.
Note: Both Rachel Jr and Rachel Snr are played by the same actor.
Sample Script
Production Costs
12.5% of Box Office. Australia Only.