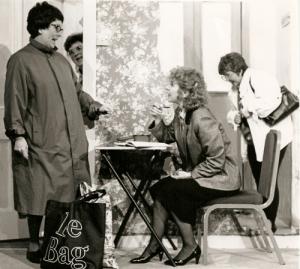 A comedy with eight strong roles for women and two for men. The Countdown Club appears to have become more of a social club than a slimming club.
Wilma, the class clown and her pals Kath and Susan have little success on the slimming front but are determined to have some fun during classes. Pat, the more sensible member of the group has lost weight but finds that her new figure brings new problems. Diane, the class leader, has some success with other members of the class, the rather reticent Amanda, newcomer Peter and Janet, who has reached her ideal weight.
However, it's not enough and Wilma overhears Joyce, the acerbic area manager, threaten Diane with the sack. She persuades her friends to act perfectly when Joyce takes the class. This only makes things worse for Diane. When it appears that the replacement leader might be a man Wilma springs into action and gets her friends to take part in an elaborate plan to make it look as if they've lost weight involving swopping identities and dressing up as new members.
Things do not go according to plan and in the resulting melee the hotel manager, Bernard's, intervention reveals that Janet has been using extreme measures to lose weight and that Joyce has not been playing fair. In the end the whole class work together to get things back on track.
Authors
Related Shows
Photos

Cast
(2m, 8f)
Wilma

- 40s, a well built woman, class clown

Kath

- 40s, rather overweight, Wilma's friend

Pat - 30s, does not look at all overweight, slimmer than Susan
Janet - 20s, very thin, aggressive

Susan

- 20s/30s, must look lighter than Kath, teacher's pet, a bit of a pain

Peter

- 30s, overweight, fussy

Amanda

- 40s, a little overweight, quiet, shy

Diane

- 30s, the class teacher, slim, tense

Joyce

- 40s, the area manager, slim, caustic

Bernard

- the hotel manager, rather precious
Sample Script
Production Costs
12.5% of Box Office.