10 years ago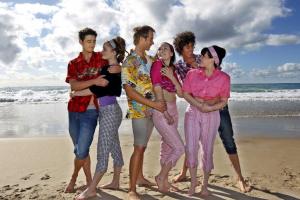 It's billed as Australia's answer to Grease - a home grown musical set by the poolside in Surfers Paradise in the 1950's and 60's.
The World Premiere of Pyjamas in Paradise will burst onto the stage of the Gold Coast Arts Centre from Friday September 2 until September 10.
Pyjamas in Paradise is written by John Michael-Howson – the co-creator of Shout! and Dusty, and musical theatre legend Peter Pinne, and Emmy®Award winning Aussie ex-pat Ashley Irwin.
In the late 1950s and early 1960s, long before Schoolies appeared on the scene, pyjama parties attracted thousands of young people from all around Australia to the small resort town of Surfers Paradise. Their popularity put Surfers on the map.
The musical follows the story of Bruce Large – retired (kind of), fast talking (always), larger than life (definitely) and his controversial dream to turn 'Surfers' into paradise!
It's set in a time where bikinis were Itsy Bitsy, love had peopleShakin All Overand everyone was desperate for aSummer Holiday.
The musical comedy includes classic hit songs from the era and original music which makesMeter Maids look like backup singers for the Supremes!
The musical is being produced by The Gold Coast Arts Centre under the direction of Tony Bartuccio.
Three professionals, Donna Lee, Jane Scali andSteven Tandy,will combine with some of the best local talent for the premiere.
Pyjamas in Paradise is licenced exclusively by David Spicer Productions.
Find out more and follow the link to book tickets here.www.davidspicer.com.au/shows/pyjamas-paradise