11 years ago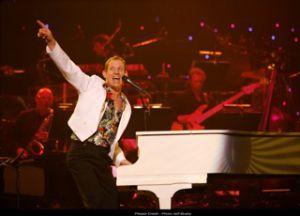 Australia's favourite song and dance man, and the original Boy From Oz, Todd
McKenney is back. After a recent sellout season in Melbourne The Boy from Oz will play
for two weeks only at the Capitol Theatre from Wednesday 2 to Thursday 17 March
2011.
Todd McKenney, said recently of reprising his role as the legendary Peter Allen "This
show has given me so much joy over so many years, and I'm excited to be coming back to
this great role in a spectacular new concert version."
Directed by Nancye Hayes with John Foreman as Musical Director and Andrew
Hallsworth as Choreographer, this critically acclaimed all new version features many of
Peter Allen's best loved songs, including Quiet Please, There's a Lady on Stage,
Everything Old is New Again, Tenterfield Saddler, I Honestly Love You, I Still Call Australia
Home, Don't Cry Out Loud and the show stopping I Go To Rio.
The Boy From Oz is widely regarded as Australia's most popular musical. It ran for a total
of 766 performances over two years in the late 90's and was the first Australian musical to
enjoy a sellout season on Broadway.
This is the dazzling, funny and touching story of the great Australian entertainer Peter
Allen, from his humble beginnings to his meteoric rise to fame as an international star.
Singing in country pubs from age 11, Peter Allen survived family tragedy to become a local
TV star at age 16. Discovered by Judy Garland, he married her daughter Liza Minnelli and
went on to become a beloved performer and an Oscar-winning songwriter.
Joining Todd McKenney on stage will be the brilliant Christen O'Leary as the legendary
Judy Garland, Robyn Arthur plays Allen's mother Marion Woolnough, Fem Belling is
Liza Minnelli and Alex Rathgeber plays Allen's lover Greg Connnell.
The Sydney Season follows The Production Company's sell-out season of The Boy
from Oz earlier this year and a return season to be held at the State Theatre, The Arts
Centre, Melbourne, from 5 to 16 January, 2011.
"Veteran musical star Nancye Hayes provides taut and sensitive direction…" Herald Sun
"McKenney is pitch perfect….high-kicks with poise and precision." The Age
"He is Peter Allen so completely, capturing his anxious energy, bright spirit and unique
performance style perfectly." Sunday Herald Sun
"The audience leapt to its feet, shouting and cheering…" The Australian
Originally Produced by Ben Gannon & Robert Fox, Music & Lyrics by Peter Allen, Book by Nick
Enright.
TICKETS ON SALE 9AM MONDAY 6 DECEMBER
SYDNEY SEASON Capitol Theatre, 13 Campbell Street, Haymarket
DATES From Wednesday 2 March – Thursday 17 March 2011
PERFORMANCE TIMES Tuesday – Friday 8pm
Saturday 2pm & 8pm
Wednesday 1pm
Sunday 6 March 1pm & 6pm
Sunday 13 March 1pm
TICKET PRICES From $64.90 to $119.90
BOOKINGS Ticketmaster 1300 723 038 or www.Ticketmaster.com.au
GROUPS 14 + Group Bookings (02) 8512 9020
groups.nsw@ticketmaster.com.au
MELBOURNE SEASON 5 to 16 January, State Theatre, The Arts Centre
Bookings Ticketek 1300 182 183 or The Arts Centre
www.theartscentre.com.au