13 years ago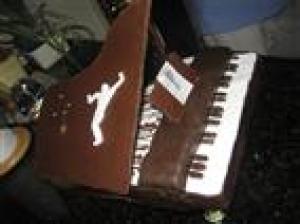 The Victorian Arts Centre is celebrating the life of Peter Allen for the next three months.
A new free exhibition includes Peter Allen's maracas, his dazzling designer stage outfits and trademark Hawaiian shirts.
Also on display are some of the most spectacular costumes used in The Boy From Oz.
http://www.theartscentre.com.au/whats-on/event.aspx?id=1322
Just down the road The Boy From Oz can be enjoyed until the 23rd of November at the Victorian College of the Arts.
I must also mention how much I enjoyed attending The Orange Musical Society's sell out production of BFO and was delighted to hear of its success in Mount Isa and in Adelaide by Marie Clark Music Theatre.
The biggest BFO surprise for me this month however was this amazing cake baked in Tamworth!