10 years ago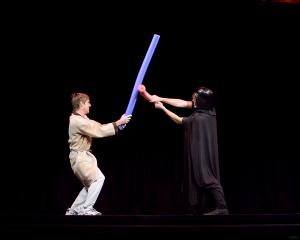 I am excited to announce the release of two new musicals for Community and Youth Theatre Companies, High Schools and Theatre Restaurant.
Hyperspace the Totally Unauthorised Star Wars Musical Parody and Warp Drive the Totally Unauthorised Star Trek Musical Parody.
Hyperspace is a soap opera that thrilled trillions throughout the galaxy. Panic sets in when the last episode goes missing. Pictured here is the famous Hyperspace pool noodle duel between Duke Kneejerker and Duck Waiter.
Warp Drive boldly goes where no musical has gone before. The two One Act musicals both be staged on one night as sci-fi double feature. Available with G rating or M rating edition. Both are written and composed by Peter Novakovich. Read Scripts, Listen to Music and order Free perusals now here.