10 years ago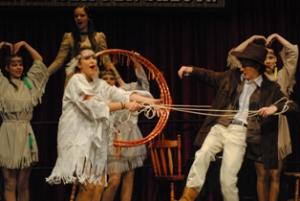 Jest at the West,was staged by the Holy Spirit College Mackay in July. It's a theatre restaurant comedy set in the flailing Silver Slipper Saloon.
Teacher Zoe Perry chose it " because the script offered us a great number of interesting characters for the students to portray. We also used the option of a chorus to allow all interested students to participate. The show was able to be adapted to our local area, and the punters greatly enjoyed the audience participation interspersed throughout the script. The students who participated in the production became very supportive of each other, and have continued this cross-year level friendship after the show. "
She described it "as a fantastic example of the community building experience that can be achieved in rehearsing and producing a theatrical production."
" I hope that other schools enjoy producing Jest at the West in the future. "