8 years ago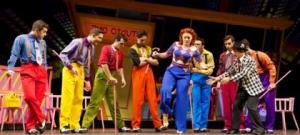 Hot Shoe Shuffle is delighting audiences in Sydney and can be seen in Melbourne from August 10.
Read David Spicer's interview with Hot Shoe Shuffle co-creator and star David Atkins here.
A special deal is available for students. Supply your ID and $20 tickets are available on the day of performances.
For those community theatre companies interested in staging Hot Shoe Shuffle in future years the good news is a sparkling new published orchestration has been created for this season and future ones.
Read more about the show here.