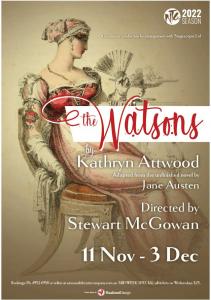 Poor Emma Watson. Raised in luxury by a wealthy aunt and destined to be an heiress, but she comes down to earth with a bump when forced to return, penniless, to her impoverished birth family. And what a family!
Chauvinistic brother Robert and his appalling social-climbing wife, Jane; garrulous spinster Elizabeth and man-mad Margaret. Not to mention their curmudgeonly pseudo-invalid father and eccentric family retainer, Nanny.
With no option but to join her hilariously unsuccessful sisters in their hunt for husbands, Emma soon comes to the attention of charming local playboy Tom Musgrave and his suspiciously shy friend Lord Osborne, as well as Lord Osborne's former tutor-turned-clergyman, Mr Howard. But the path of true love runs anything but smooth and it is a local scandal which finally paves the way for Emma's - and her family's - future happiness.
Jane Austen abandoned her novel The Watsons in 1805, possibly due to the death of her father that year. This completed stage version received its premiere in 2017, to mark the bicentenary of the author's death. Described as a 'sparkling adaptation' of Austen's work, critics praised this 'sharp and witty' script and its 'beautifully differentiated characters'.
Authors
Related Shows
Photos
Cast
Characters
(6m, 7f)

Mr Watson - 60's-70's, father, a widower
Robert Watson - 30's-40's, eldest son
Elizabeth Watson - 30's, eldest daughter
Margaret Watson - late 20's, middle daughter
Emma Watson - early 20's, youngest daughter
Jane Watson - 30's-40's, Robert's wife
Nanny - 60's, housemaid/cook
Charles (Lord) Osborne - 20's, Lord of the manor
Isabella Osborne - 20's-30's, Charles' elder sister
Lady Osborne - 40's, step-mother to Isabella and Charles
Tom Musgrave -30's, local charmer
Mr Howard - 30's, clergyman, Lord Osborne's former tutor
Mr Smith - any age, a lawyer's clerk
Sample Script
Production Costs
12.5%