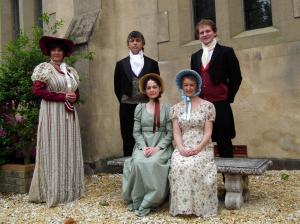 Fitzwilliam Darcy is determined not to succumb to the charms of Elizabeth Bennet because he considers her family connections to be inferior. She is determined not to like him because of his pride. Can their differences ever be reconciled?
This adaptation of Austen's much loved novel follows the fortunes of Elizabeth and her sisters as their mother attempts to find suitable marriage partners for them.
"IT is not only fans of Jane Austen's much-loved novel centred on romantic manoeuvres in early 19th century England who will be delighted by this witty and excellently staged adaptation.
Audience comments at the performance I attended made it clear that people unfamiliar with the book were also having a good time.
While writer-director Pamela Whalan has largely confined the action to one setting – the morning room of Longbourn, a house in a rural English setting – the dialogue and the characters' movements and expressions have audience members seeing events and people in other locations."
Ken Longworth Newcastle Herald 2011.
Authors
Related Shows
Cast
Sample Script
Production Costs
12.5% of Box office